CLSI at the 2020 AACC Annual Scientific Meeting & Clinical Laboratory Exposition
Who We Are
The Clinical and Laboratory Standards Institute (CLSI) is a globally recognized not-for-profit standards development organization with over 24,000 individuals with membership access, 1,200 volunteers, and 250+ products. Our standards are recognized by laboratories, accreditors, and government agencies around the world as the best way to improve medical laboratory testing.
Discount: Take 20% off your next purchase with discount code AACC1220.
Featured Products |
View our recently published products.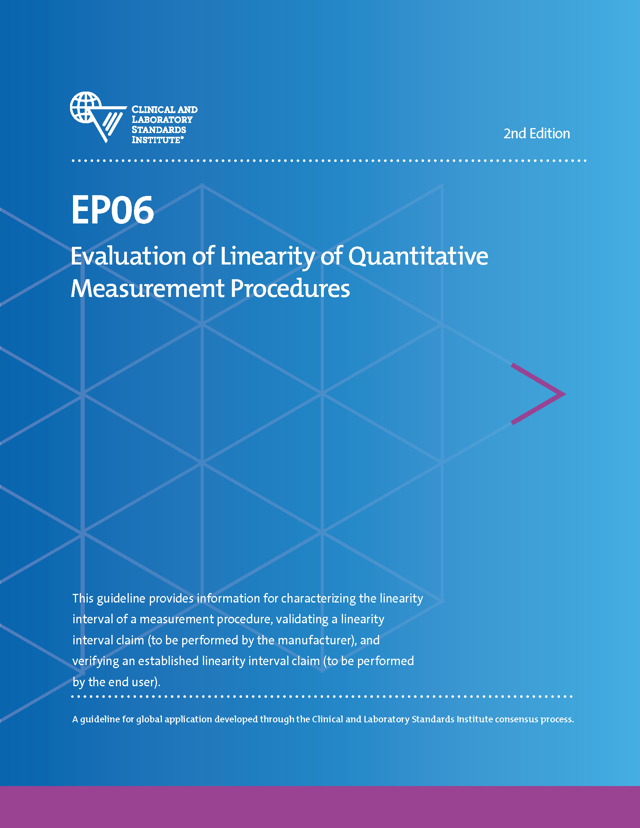 EP06
Evaluation of Linearity of Quantitative Measurement Procedures, 2nd Edition
This guideline provides information for characterizing the linearity interval of a measurement procedure, validating a linearity interval claim (to be performed by the manufacturer), and verifying an established linearity interval claim (to be performed by the end user).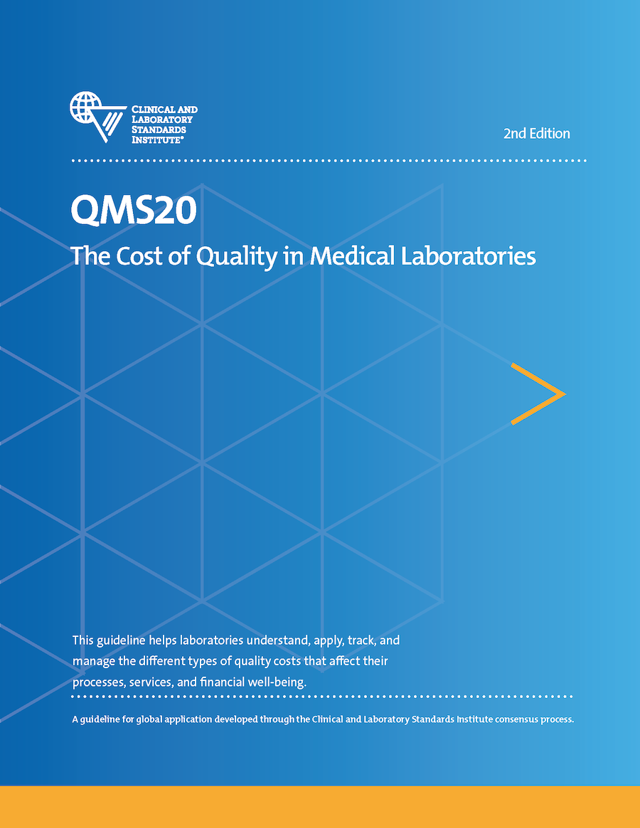 QMS20
The Cost of Quality in Medical Laboratories, 2nd Edition
This guideline helps laboratories understand, apply, track, and manage the different types of quality costs that affect their processes, services, and financial well-being.
GP42
Collection of Capillary Blood Specimens, 7th Edition
This standard provides procedures for collection of capillary blood specimens. Specifications for collection sites, puncture depth, and disposable devices used to collect, process, and transfer capillary blood specimens are also included.
LQMS
Laboratory Quality Management System Certificate Program
Earn P.A.C.E.® credits with this self-paced online learning program that will give you the knowledge and skills necessary for successful implementation and sustainment of a quality management system in your lab.
What We Offer
Free COVID-19 Resources
We have compiled a list of helpful documents for the lab community's use during the COVID-19 pandemic. You can view these documents, learn how they help with COVID-19 testing, and access sample pages. Plus, some CLSI documents are free for a limited time.
A Committed Membership Base
Our members help support volunteer committee work and encourage their staff to participate on document development committees. Members are also asked to review, comment, and vote on CLSI documents before they are published—ensuring that the document development process is fair and unbiased, and that everyone has a seat at the table.
An Unmatched Volunteering Experience
Through a consensus-based process, CLSI's standards are developed and written by volunteer committees of leading experts in the field of laboratory medicine. Our volunteer committees share information from their own laboratory work to create documents used by the medical laboratory community to improve processes, pass and maintain accreditation, meet regulatory requirements, and more.
Sign-Up to Receive More Information
More About CLSI
Globally Recognized Standards Documents
Developed by our members for use by the global laboratory community, CLSI's consensus-based medical laboratory standards are the most widely recognized resources for continually improving testing quality, safety, and efficiency. Organizations use CLSI standards to improve their testing outcomes, maintain accreditation, bring products to market faster, and navigate regulatory hurdles.
Global Training and Partnerships
Through our Partnerships program, CLSI provides international outreach services and hands-on support to laboratories around the world, helping them achieve sustainable quality with systems to better diagnose and treat patients with infectious diseases.