CLSI at the 2022 AACC Annual Scientific Meeting & Clinical Laboratory Exposition
Discount: Take 20% off your next purchase with discount code AACC1426.
Featured Products |
View our recently published products.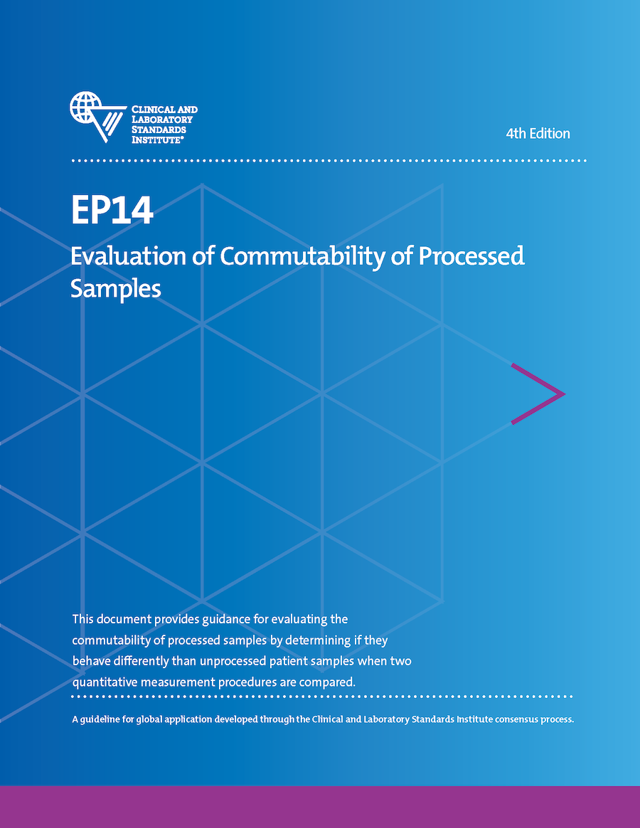 EP14
Evaluation of Commutability of Processed Samples, 4th Edition
This document provides guidance for evaluating the commutability of processed samples by determining if they behave differently than unprocessed patient samples when two quantitative measurement procedures are compared.
New Derivative Products
Implementation Guides
Help your laboratory scientists learn to use CLSI's Evaluation Protocols standards. Properly implementing our EP standards ensures quality test results, regulatory requirements readiness, and preparedness for accreditation.
C62
Liquid Chromatography-Mass Spectrometry Methods, 2nd Edition
This document provides guidance to the clinical laboratorian for the reduction of interlaboratory variance and the evaluation of interferences, assay performance, and other pertinent characteristics of clinical assays. This guideline emphasizes particular areas related to assay development and presents a standardized approach for method verification that is specific to mass spectrometry technology.
Coming Soon
Method Navigator
As a manufacturer or laboratory in the in vitro diagnostics community, your test methods are subject to a myriad of regulatory requirements. Often, it is difficult to stay up-to-date with the pertinent requirements. CLSI's new Method Navigator, a comprehensive subscription resource, was built to help make your job easier.
EP27
Constructing and Interpreting an Error Grid for Quantitative Measurement Procedures, 2nd Edition
This guideline provides recommendations on constructing and using error grids to evaluate the clinical acceptability of quantitative measurement procedures, based on the potential harm that may be caused by erroneous measurements with clinical consequences.
Coming Soon
Gap Analysis Tool
CLSI's new Gap Analysis Tool can help personnel quickly and easily assess whether their laboratory is in compliance with QMS requirements and can track progress toward achieving complete compliance.
What We Offer
Free COVID-19 Resources
We have compiled a list of helpful documents for the lab community's use during the COVID-19 pandemic. You can view these documents, learn how they help with COVID-19 testing, and access sample pages. Plus, some CLSI documents are free for a limited time.
A Committed Membership Base
Our members help support volunteer committee work and encourage their staff to participate on document development committees. Members are also asked to review, comment, and vote on CLSI documents before they are published—ensuring that the document development process is fair and unbiased, and that everyone has a seat at the table.
An Unmatched Volunteering Experience
Through a consensus-based process, CLSI's standards are developed and written by volunteer committees of leading experts in the field of laboratory medicine. Our volunteer committees share information from their own laboratory work to create documents used by the medical laboratory community to improve processes, pass and maintain accreditation, meet regulatory requirements, and more.
Sign-Up to Receive More Information
More About CLSI
Globally Recognized Standards Documents
Developed by our members for use by the global laboratory community, CLSI's consensus-based medical laboratory standards are the most widely recognized resources for continually improving testing quality, safety, and efficiency. Organizations use CLSI standards to improve their testing outcomes, maintain accreditation, bring products to market faster, and navigate regulatory hurdles.
Global Training and Partnerships
Through our Partnerships program, CLSI provides international outreach services and hands-on support to laboratories around the world, helping them achieve sustainable quality with systems to better diagnose and treat patients with infectious diseases.