CLSI AST News Update | June 2018
6/1/2018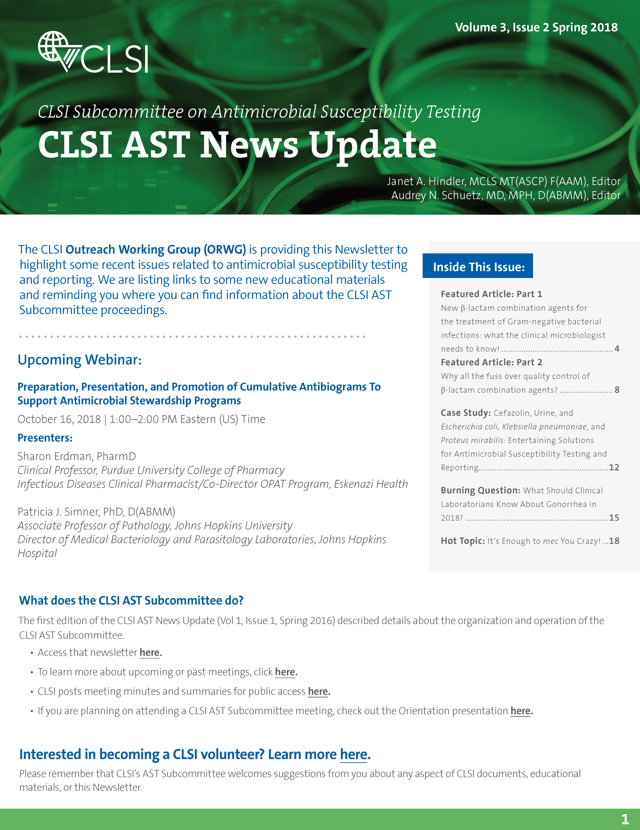 CLSI's Subcommittee on Antimicrobial Susceptibility Testing (AST) Outreach Working Group has published Volume 3, Issue 2 of their biannual AST News Update (Spring 2018).
Inside This Issue:
Featured Article: Part 1
New β-lactam combination agents for the treatment of Gram-negative bacterial infections: what the clinical microbiologist needs to know!
By Stephanie L. Mitchell, University of Pittsburgh and Children's Hospital of Pittsburgh, and Romney M. Humphries, Accelerate Diagnostics
Featured Article: Part 2
Why all the fuss over quality control of β-lactam combination agents?
By Janet A Hindler, UCLA Health System; Los Angeles County Department of Health
Case Study:
Cefazolin, Urine, and Escherichia coli, Klebsiella pneumoniae, and Proteus mirabilis: Entertaining Solutions for Antimicrobial Susceptibility Testing and Reporting
By Audrey N. Schuetz, Mayo Clinic, and Stella Antonara, Nationwide Children's Hospital
Burning Question:
What Should Clinical Laboratorians Know About Gonorrhea in 2018?
By Peera Hemarajata, Los Angeles County Department of Public Health, Angella Charnot-Katsikas, University of Chicago, and Sumanth Gandra, University of Chicago/NorthShore University Health System
Hot Topic:
It's Enough to mec You Crazy!
By Lars Westblade, Weill Cornell Medicine
You can view the entire AST News Update here.
← Go Back