Provide Accurate AST Results With the Newest Edition of M100
1/19/2022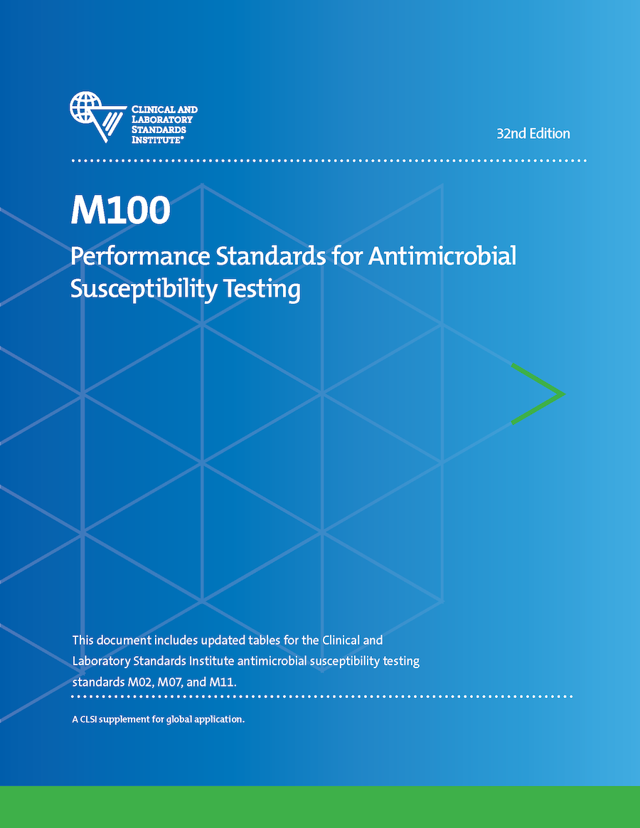 The 32nd Edition of M100—Performance Standards for Antimicrobial Susceptibility Testing has published, and is available for purchase now.  M100 reports the antibiotic breakpoints that help medical laboratorians throughout the world provide accurate test results to health care providers. These breakpoints aid laboratorians in selecting the most appropriate and effective antimicrobial treatments for patients. The 32nd edition of M100 is available alone or in several package options with its companions, M02 and M07. M100 is also available in a convenient electronic subscription format, M100 Plus.
On Tuesday and Wednesday, March 22 and 23, 2022, CLSI will present its annual AST Webinar: M100-Ed32 Updates. Leading microbiologists will help you identify the major changes found in the updated edition of CLSI document M100-Ed32. You will also learn to design a strategy for implementing the new standard into your laboratory practices. Single or group access licenses are available for purchase now.
In addition, a free, self-paced, interactive online learning program is now available that will teach you how to navigate the many tables found in CLSI's document M100—Performance Standards for Antimicrobial Susceptibility Testing, 31st Edition. This course will teach you more about CLSI and its role in AST, as well as how to locate specific tables in M100 that can guide AST and reporting decisions, including:
Selecting antimicrobial agents for testing and reporting.
Interpreting zone diameter and minimal inhibitory concentration (or MIC) measurements.
Choosing organisms for quality control of disk diffusion and MIC tests.
1.5 P.A.C.E.® CE Credits will be available to purchase, either before or after you complete the course.
← Go Back