Spotlight on CLSI's Partnerships Activities in Central Asia
10/15/2018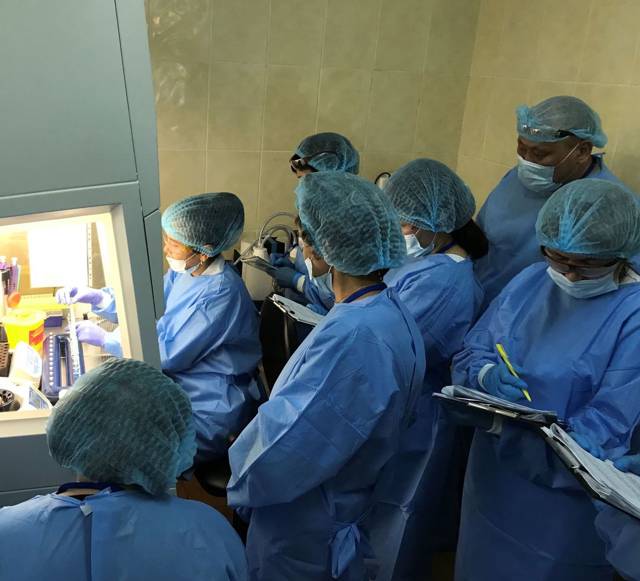 CLSI's Global Health Partnerships (GHP) presented a PEPFAR-funded workshop series entitled Molecular Practical Trainings in PCR Methodology for HIV Testing in the Central Asia Region between March to September 2018. A workshop was held in Tajikistan, Kazakhstan, and Kyrgyzstan. Each workshop was co-led by CLSI's Melissa Meeks, GHP's Director of Education and Development and subject matter expert Catherine Gebhart, PhD, MB(ASCP)CM, D(ABHI), Technical Director of the Molecular Diagnostics Laboratory at the University of Nebraska Medical Center, with the assistance of local Russian-English interpreters. Each training included theoretical and hands-on components.
Molecular Practical Training in PCR Methodology for HIV Testing trained laboratorians in PCR-related laboratory techniques for HIV testing, which is a primary methodology used for HIV diagnosis and viral load monitoring for PLHIV (People Living with HIV/AIDS). The goal of the training was to ensure that local laboratory professionals are able to perform accurate and reliable testing in order to meet the goal of the CDC UNAIDS 90/90/90 initiative.
UNAIDS' target by 2020 is:
90% of all people living with HIV will know their HIV status.
90% of all people with diagnosed HIV infection will receive sustained antiretroviral therapy (ART).
90% of all people receiving ART will have viral suppression. 
In the months ahead, GHP's PEPFAR-supported efforts in the Central Asia Region will continue to focus on laboratory systems strengthening in the following four main areas:
HIV Viral Load (VL) Scale-Up
HIV Rapid Testing (RT) Quality Assurance (QA)
QMS Implementation & Accreditation Preparedness
External Quality Assessment (EQA) and Proficiency Testing (PT)
To learn more about CLSI's Partnerships program and activities, visit clsi.org/partnerships.
← Go Back