The One Health Initiative
1/17/2020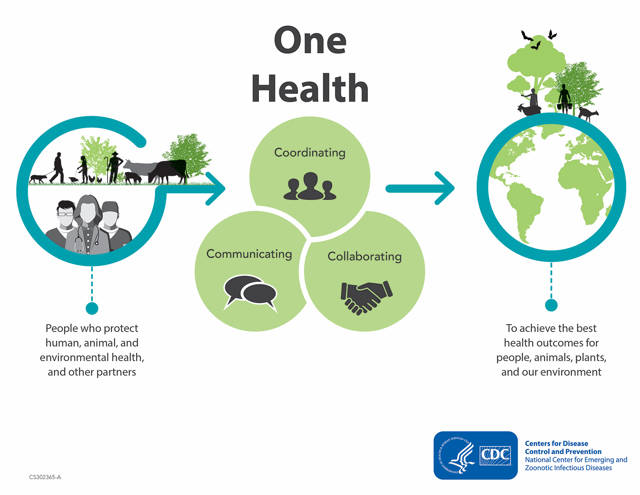 January is One Health Awareness Month, when we promote the importance of public, animal, and environmental health. Learn about how CLSI has promotes the values of the One Health Initiative through its AST subcommittees that establish testing standards for the human and veterinary laboratory sectors.
The One Health Initiative is a movement that was launched in 2006 and is "a worldwide strategy for expanding interdisciplinary collaborations and communications in all aspects of healthcare for humans, animals, and the environment." CLSI has been involved in the One Health Initiative in a practical way for 25 years through its antimicrobial susceptibility testing (AST) subcommittees that establish testing standards for the human and veterinary laboratory testing sectors. Bacteria isolated from animals may become zoonotic and cause disease in people, either via foodborne transmission (eg, Salmonella or Campylobacter), direct contact (eg, Staphylococcus pseudintermedius), or possibly through environmental contamination. Likewise, many common human pathogens are anthroponotic (i.e., carried by humans but then transferred to animals; an example is Cryptosporidium) and may produce colonization and disease in domestic and companion animals. In recognition of the 25th anniversary of the Veterinary Antimicrobial Susceptibility Testing (VAST) Subcommittee, an educational workshop featuring four speakers was held during the January 2017 CLSI Committee Week. Each speaker discussed the shared interests between the VAST and Human AST Subcommittees and between human and animal laboratory medicine testing.
Dr. Jeff Watts, Zoetis Animal Health, outlined key recommendations from the WHO (World Health Organization), OIE (World Organization for Animal Health) and FAO (Food and Agricultural Organization) which address responsible antibiotic use guidelines and national antimicrobial resistance monitoring (AMR) programs with harmonized AST methodology. Responsible use guidelines require the identification and AST of animal pathogens as for human pathogens. The VAST methods are described in VET01-A4 (Performance Standards for Antimicrobial Disk and Dilution Susceptibility Tests for Bacteria Isolated From Animals; Approved Standard—Fourth Edition) and breakpoints are listed in VET01S-Ed3. These documents encompass both companion and food animal species, the pathogens for many major diseases, and antibiotics used to treat them. Dr. Watts discussed the value that national AMR programs may find in the VET05-R document (Generation, Presentation, and Application of Antimicrobial Susceptibility Test Data for Bacteria of Animal Origin; A Report), which emphasizes the use of CLSI methods to ensure comparability of cumulative AST data. A recent blog on the One Health Commission website amplified the key role of CLSI AST methodology in comparing AST data across institutions and can be accessed here.
Dr. Mark Papich, Professor of Veterinary Pharmacology at North Carolina State University, reviewed how the unique pharmacokinetics in animals require careful consideration to properly establish appropriate clinical breakpoints, which may not be the same as those set for humans. He noted all current clinical breakpoints for veterinary medicine can be found in VET01S-Ed3 and VET03/VET04-S2 (only applicable to aquatic animals). Access to species-specific clinical breakpoints is a key component to the foundations of "Responsible Use" by veterinarians, since reliance on human clinical breakpoints could result in inappropriate use, emergence of resistance and/or therapeutic failure.
Dr. Tom Fritsche, Marshfield Clinic, Marshfield, Wisconsin, related his One Health – One Lab experience in creating a single lab entity for performing human and animal microbiology testing by integrating mass spectrometry and broth microdilution AST for all specimens. Cross-training of technical staff, partnership with in-house veterinary pathologists, and a common laboratory information system were key factors in successfully streamlining laboratory operations and improving client satisfaction. Benefits realized from this One Health lab approach has included recognition of new pathogens common to both humans and animals, and comparative antibiogram analyses for detecting emerging resistance in both populations.
The final speaker, Dr. Ron Miller, FDA Center for Veterinary Medicine, shared a glimpse of the future comparing Whole Genome Sequencing (WGS) data with phenotypic MIC data for key food-borne bacteria. An exceptionally high correlation was determined between the genotypic and phenotypic data. The new concept of a Genotypic Cutoff Value (GCV) was explored as a counterpart to validate and confirm more traditional MIC distribution analyses used to establish epidemiological cutoff values (ECVs).1
The presentations collectively provided insight into the overlap between the human and animal laboratory sectors and how awareness and cooperation can benefit overall health. Slides from this educational workshop can be found here.
Reference
1 Tyson GH, et al. Establishing genotypic cutoff values to measure antimicrobial resistance in Salmonella. Antimicrob Agents Chemother. 2017;61(3): pii: e02140-16.
PMID 27993845.
Read the original article and more in Volume 2, Issue 1 of the AST Outreach Working Group Newsletter.
← Go Back