US Antibiotic Awareness Week 2019
11/15/2019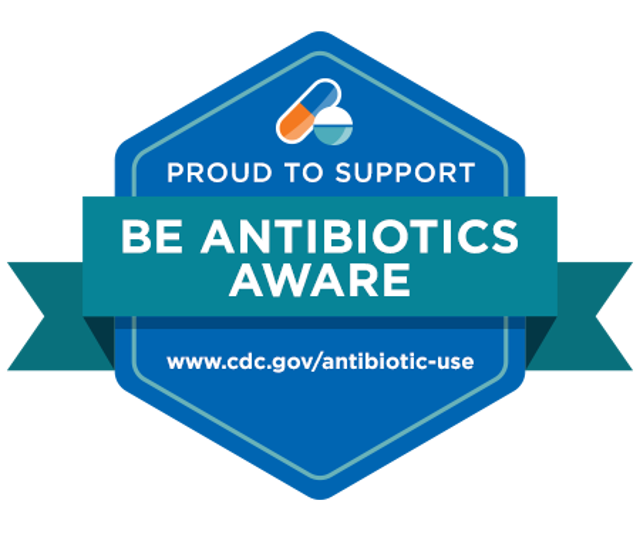 The week of November 18-24 marks the celebration of US Antibiotic Awareness Week (USAAW). USAAW is an annual observance that raises awareness about the threat of antibiotic resistance and the importance of appropriate antibiotic use. Antibiotic resistance occurs when microorganisms adapt so that they are no longer able to be treated with drugs that were once effective.
The observance of USAAW is a key component of the US Centers for Disease Control (CDC)'s efforts to improve antibiotic stewardship in communities, in health care facilities, and on the farm in collaboration with state-based programs, nonprofit partners, and for-profit partners. USAAW is a collaboration of CDC, state-based programs, nonprofit partners, and for-profit partners. This year's theme is "Be antibiotics aware. Smart use, best care."
The CDC is providing a Partner Toolkit with a USAAW Activities Calendar, social media posts, public service announcements, and more. On November 13, CDC released Antibiotic Resistance Threats in the United States, 2019.1 According to the report, more than 2.8 million antibiotic-resistant infections occur in the United States each year, and more than 35,000 people die as a result. To put these statistics into perspective, this means that someone in the United States gets an antibiotic resistant infection about every 11 seconds and every 15 minutes someone dies. According to the report, since 2013, prevention efforts have reduced deaths from antibiotic-resistant infections by 18% overall and by nearly 30% in hospitals. The first Antibiotic Resistance Threats report was issued in 2013. The 2019 report includes:
An antibiotic resistance threats list with 18 germs, including two new urgent threats--drug resistant Candida auris and carbapenem-resistant Acinetobacter.
A watch list that identifies three additional germs that have yet to spread resistance widely, but are being closely monitored.
Trends—CDC studies how estimates of antibiotic resistant infections and deaths has changed over time.
Electronic health data—Infection and death estimates for healthcare-associated germs were calculated using electronic health data from hospitals for the first time.
Although prevention efforts, including preventing infections, improving antibiotic use, and stopping spread are saving lives, some community-associated germs (eg, resistant gonorrhea, group A strep) are on the rise.
Antibiotic-resistant germs can spread between people with and without symptoms of infection. Depending on the germ, germs can spread to people in many ways1:
Close contact (direct or indirect) with a person carrying a resistant germ—for example, this can happen when healthcare providers move from one patient to the next without washing their hands
In the air—eg, TB bacteria can enter the air when a person with TB disease of the lungs or throat coughs, speaks, or sings
Contaminated water, including sewage systems, hospital plumbing, or recreational water
Contact with contaminated surfaces, such as hospital bedrails, kitchen counters, shared equipment
Animals—for example, eating contaminated food or touching animals carrying resistant germs
Sexual contact with a person carrying a resistant germ
In the medical laboratory, standards for antimicrobial susceptibility testing guide microbiologists in using best practices to assess effectiveness of antibiotics against pathogens. CLSI publishes standards that help health care providers determine the best antimicrobial treatments for their patients.
Every year, CLSI publishes M100, Performance Standards for Antimicrobial Susceptibility Testing, which represents the most current information for drug selection, antimicrobial susceptibility test interpretation, and quality control. The data provided in M100 are used extensively throughout the world by laboratorians, infectious disease practitioners, and antimicrobial susceptibility testing (AST) device manufacturers.
Learn more about how CLSI is uniquely qualified to serve as the go-to source of AST methods and interpretive criteria and why CLSI breakpoints are so important here.
Finally, help CLSI and the CDC spread the word about antibiotic resistance by using #CDCARthreats on social media.
Reference
CDC. Antibiotic Resistance Threats in the United States, 2019. Atlanta, GA: U.S. Department of Health and Human Services, CDC; 2019.
← Go Back