World AIDS Day
11/30/2018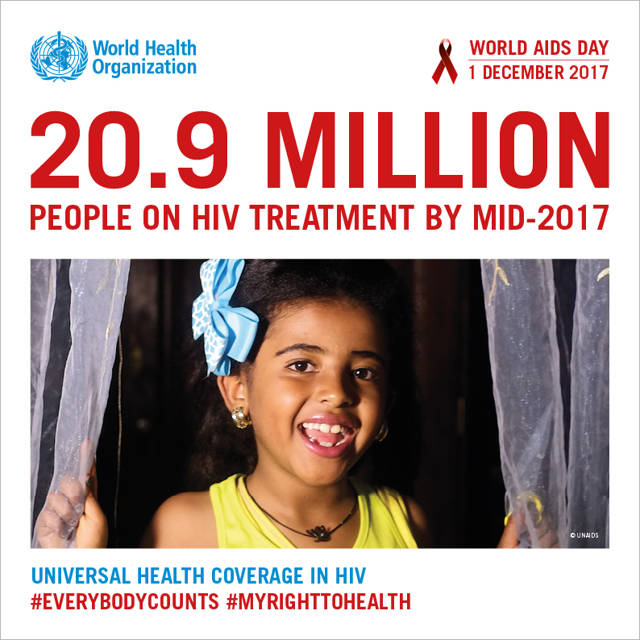 December 1 is the 30th anniversary of World AIDS Day. This year's theme is "Know your status". World AIDS Day originated at the 1988 World Summit of Ministers of Health on Programs for AIDS Prevention. Since then, every year United Nations agencies, governments, and communities join forces to campaign around specific themes related to AIDS.
Three in four people with HIV in the United States know their status. UNAIDS is focused on reaching those who don't know their status, to ensure they receive quality care.
HIV testing is essential for achieving the UNAIDS 90–90–90 targets which are:
By 2020, 90% of all people living with HIV will know their HIV status.
By 2020, 90% of all people with diagnosed HIV infection will receive sustained antiretroviral therapy.
By 2020, 90% of all people receiving antiretroviral therapy will have viral suppression. 
Unfortunately, there are still barriers to HIV testing. Stigma and discrimination often deter people from taking an HIV test. Access to confidential HIV testing is still an issue of concern. Many people still only get tested after becoming symptomatic. 
The good news is that there are many new ways of expanding access to HIV testing. Self-testing, community-based testing, and multidisease testing are all helping people to know their HIV status. 
CLSI's Global Health Partnerships travels to resource-constrained countries to train laboratorians on quality practices for HIV testing. Learn more about their work at clsi.org/global-training.
← Go Back