CLSI Publishes Laboratory Internal Audit Program, 2nd Edition
6/16/2022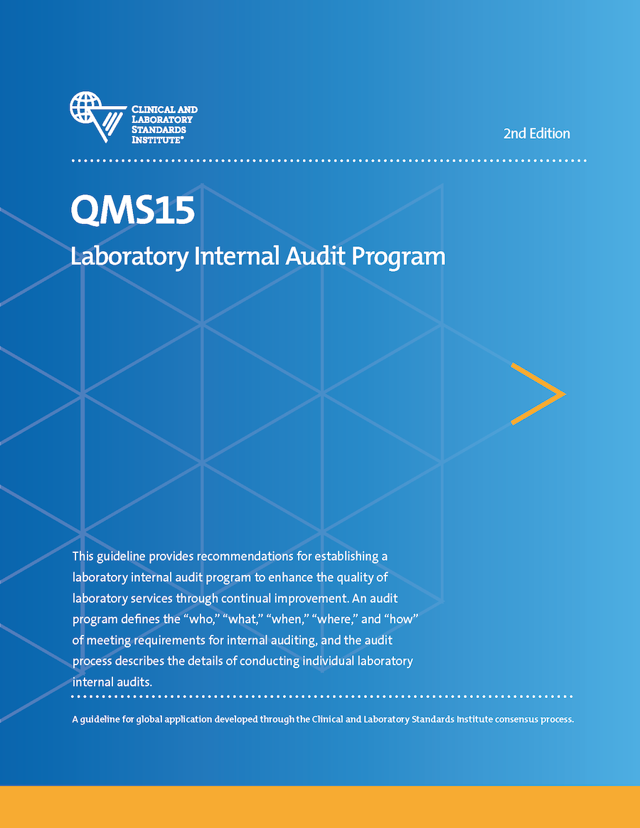 Malvern, PA—The Clinical and Laboratory Standards Institute (CLSI) has published the second edition of QMS15—Laboratory Internal Audit Program. This guideline provides recommendations for establishing an internal audit program and related processes for enhanced quality and continual improvement in the laboratory. The audit program defines the "who," "what," "when," "where," and "how" of meeting requirements for internal auditing, and the audit process describes the details of conducting an audit. Committed laboratory leadership and individuals willing to share their expertise and experience enable a successful internal audit program.
Updates to this edition of QMS15 include:
New subchapters on auditor training and competence assessment and audit criteria.
Revisions to the responsibilities of the functional roles and the audit process flow chart.
Reorganization of the justification for the internal audit program and the audit process chapters.
Additional appendixes.
Laura McClannan, MT(ASCP)SBB, CQA(ASQ), Chairholder of QMS15, said, "An internal audit program is a vital component for any laboratory to assess compliance with regulatory and accreditation requirements and to enhance quality through continual improvement. QMS15 provides a framework for establishing an internal audit program and to define the audit process."
For more information about QMS15, contact Joanne Christopher at jchristopher@clsi.org or +1.484.588.5907.    
 CLSI sets the standard for quality in medical laboratory testing. A not-for-profit membership organization, CLSI brings together the global laboratory community for the advancement of a common cause: to foster excellence in laboratory medicine.    
For over 50 years, our members, volunteers, and customers have made CLSI a respected, transformative leader in the development and implementation of medical laboratory testing standards. Through our unified efforts, we will continue to set and uphold the standards that drive quality test results, enhance patient care delivery, and improve health care around the world.    
By using CLSI standards, laboratorians can improve process quality, speed the development of standard operating procedures, and implement safer practices with greater ease and efficiency.
← Go Back