CLSI Publishes New Document C64—Quantitative Measurement of Proteins and Peptides by Mass Spectrometry, 1st Edition
6/11/2021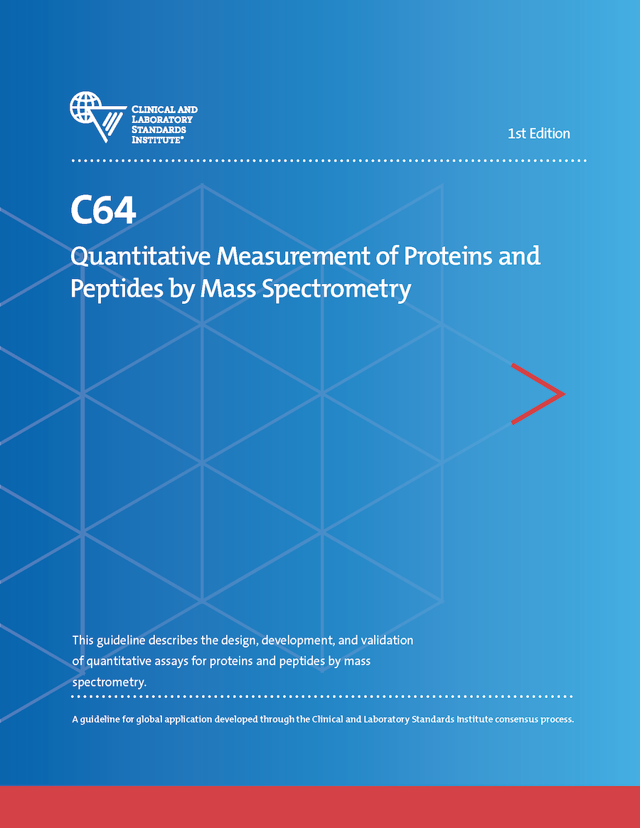 USA—The Clinical and Laboratory Standards Institute (CLSI) has published the first edition of C64—Quantitative Measurement of Proteins and Peptides by Mass Spectrometry. C64 provides a framework for developing clinical protein and peptide assays from conception to validation and is intended for those who have experience with traditional small-molecule liquid chromatography–mass spectrometry (LC-MS) but not with protein and peptide analysis. Although closely related to traditional small-molecule analysis by LC-MS, protein and peptide analysis involves unique challenges and necessitates complex workflows, which are covered in detail. To enhance translation of assays to clinical use, this guideline focuses on method development aligned with clinically appropriate analytical validation.
This guideline also discusses:
Effective use of internal standards.
Quality control and proficiency testing materials.
Feasibility determination and planning.
Approaches to calibration.
For more information about C64, contact Patrick McGinn at pmcginn@clsi.org or 1.484.588.5933.    
 CLSI sets the standard for quality in medical laboratory testing. A not-for-profit membership organization, CLSI brings together the global laboratory community for the advancement of a common cause: to foster excellence in laboratory medicine.    
For over 50 years, our members, volunteers, and customers have made CLSI a respected, transformative leader in the development and implementation of medical laboratory testing standards. Through our unified efforts, we will continue to set and uphold the standards that drive quality test results, enhance patient care delivery, and improve health care around the world.    
By using CLSI standards, laboratorians can improve process quality, speed the development of standard operating procedures, and implement safer practices with greater ease and efficiency.
← Go Back