CLSI Publishes New Edition of EP06—Evaluation of Linearity of Quantitative Measurement Procedures
12/15/2020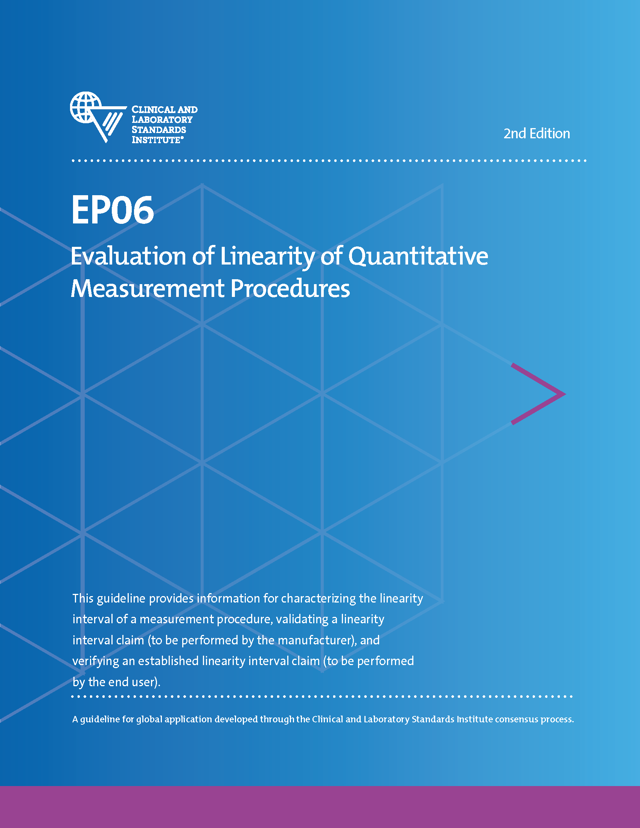 USA—The Clinical and Laboratory Standards Institute (CLSI) has published the 2nd Edition of EP06—Evaluation of Linearity of Quantitative Measurement Procedures. EP06 is intended to provide both manufacturers and users of quantitative measurement procedures with an economical and user-friendly method of validating and verifying the linearity interval. This guideline also can be used to determine the extent to which a quantitative measurement procedure meets medical requirements or the manufacturer's linearity interval claims.
EP06 discusses:
General considerations for measurement procedure linearity.
Validating and verifying the measurement procedure linearity interval.
Ten appendixes with examples of linearity studies and linearity panel preparation schemes.
Robert McEnroe, PhD, Chairholder of EP said, "EP06 provides guidance during validation and verification processes end to end. Enhancement of graphical representations and understandable worked examples allow the reader to better interpret robustness and potential limitations of an assay's linearity."
For more information about EP06, contact Patrick McGinn at pmcginn@clsi.org or +1.484.588.5933.    
 CLSI sets the standard for quality in medical laboratory testing. A not-for-profit membership organization, CLSI brings together the global laboratory community for the advancement of a common cause: to foster excellence in laboratory medicine.    
For over 50 years, our members, volunteers, and customers have made CLSI a respected, transformative leader in the development and implementation of medical laboratory testing standards. Through our unified efforts, we will continue to set and uphold the standards that drive quality test results, enhance patient care delivery, and improve health care around the world.    
By using CLSI standards, laboratorians can improve process quality, speed the development of standard operating procedures, and implement safer practices with greater ease and efficiency.
← Go Back