CLSI Publishes New Edition of M54—Principles and Procedures for Detection and Culture of Fungi in Clinical Specimens
1/18/2021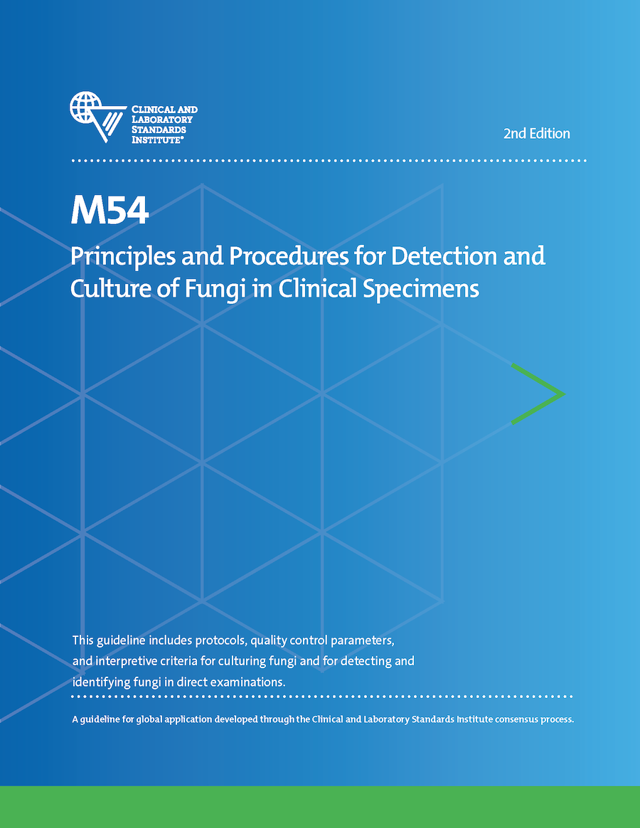 USA—The Clinical and Laboratory Standards Institute (CLSI) has published the second edition of M54—Principles and Procedures for Detection and Culture of Fungi in Clinical Specimens. This guideline describes recommended processes for plating and examining fungal cultures as well as principles and procedures for the direct detection of fungi in clinical specimens, including criteria for performing and interpreting direct microscopic examinations. Safety considerations unique to mycology laboratories and a discussion of appropriate levels of laboratory service (eg, when to refer samples to more experienced laboratories) are highlighted.
M54 also provides information on:
Specimen collection, transport, and processing.
Rejection criteria.
Fungal stains and interpretive criteria.
Serological and antigen-based testing and molecular assays.
Media selection, incubation conditions, and other growth requirements for fungal cultures.
Fungal taxonomy has been updated in this edition of M54.
Nancy L. Wengenack, PhD, D(ABMM), Chairholder of M54, said, "The second edition of M54 builds on the strengths of the original document by adding additional information in the form of high-quality photographs and expanded tables designed to assist laboratorians with the interpretation of direct fungal microscopic examinations. In addition, information about the direct detection of fungi using antigen, antibody, and molecular methods expands the coverage of the document to these important areas of mycology. The revised document also updates taxonomy that has changed since the original publication."


For more information about M54, contact Patrick McGinn at pmcginn@clsi.org or +1.484.588.5933.    


 CLSI sets the standard for quality in medical laboratory testing. A not-for-profit membership organization, CLSI brings together the global laboratory community for the advancement of a common cause: to foster excellence in laboratory medicine.    
For over 50 years, our members, volunteers, and customers have made CLSI a respected, transformative leader in the development and implementation of medical laboratory testing standards. Through our unified efforts, we will continue to set and uphold the standards that drive quality test results, enhance patient care delivery, and improve health care around the world.   
By using CLSI standards, laboratorians can improve process quality, speed the development of standard operating procedures, and implement safer practices with greater ease and efficiency.
← Go Back