CLSI Publishes New Edition of Molecular Methods Document
8/28/2020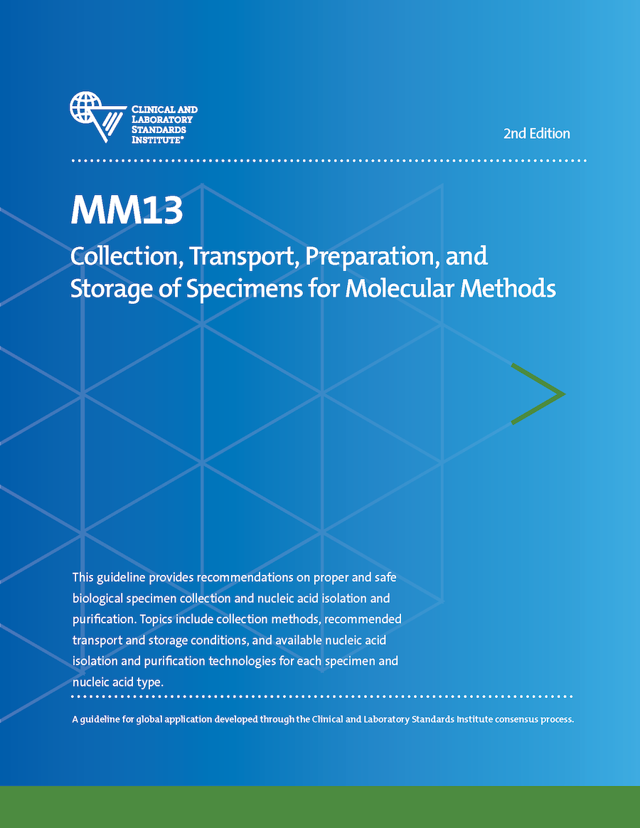 The Clinical and Laboratory Standards Institute (CLSI) has published MM13—Collection, Transport, Preparation, and Storage of Specimens for Molecular Methods, 2nd ed. MM13 describes general technical principles for ensuring optimal specimen collection, transport, storage, and nucleic acid isolation for molecular diagnostic test methods. It is intended for all health care professionals responsible for obtaining and transporting specimens from patients or preparing samples for molecular tests. It is also intended for manufacturers of specimen collection devices and sample preparation reagents, kits, and instrumentation.
 This guideline describes:
Specimen collection and transport devices.
Sample preparation methods and optimal storage conditions.
Special precautions for molecular methods.
Elizabeth Sheppard, MBA, HT(ASCP), Chairholder of MM13, said, "The foundation of molecular testing is the preservation of the sample integrity which is essential for an accurate result and diagnosis. Preexamination is a complex process with potential errors along the entire specimen workflow and requires standardization and education to all who collect, transport, prepare and store patient samples. Bringing together a group of subject matter experts, we were able to update the CLSI MM13 document to include mainstream advancements in molecular methods and various specimen types. This guideline provides general principles for minimizing or eliminating preexamination variables for all molecular tests and specimen types but most importantly a mechanism to assure a quality diagnosis for the patient."
For more information about MM13, contact Patrick McGinn at pmcginn@clsi.org or +1.484.588.5933.    
 CLSI sets the standard for quality in medical laboratory testing. A not-for-profit membership organization, CLSI brings together the global laboratory community for the advancement of a common cause: to foster excellence in laboratory medicine.       
For over 50 years, our members, volunteers, and customers have made CLSI a respected, transformative leader in the development and implementation of medical laboratory testing standards. Through our unified efforts, we will continue to set and uphold the standards that drive quality test results, enhance patient care delivery, and improve health care around the world.    
By using CLSI standards, laboratorians can improve process quality, speed the development of standard operating procedures, and implement safer practices with greater ease and efficiency.
← Go Back