CLSI Publishes New Edition of NBS01—Dried Blood Spot Specimen Collection for Newborn Screening
4/29/2021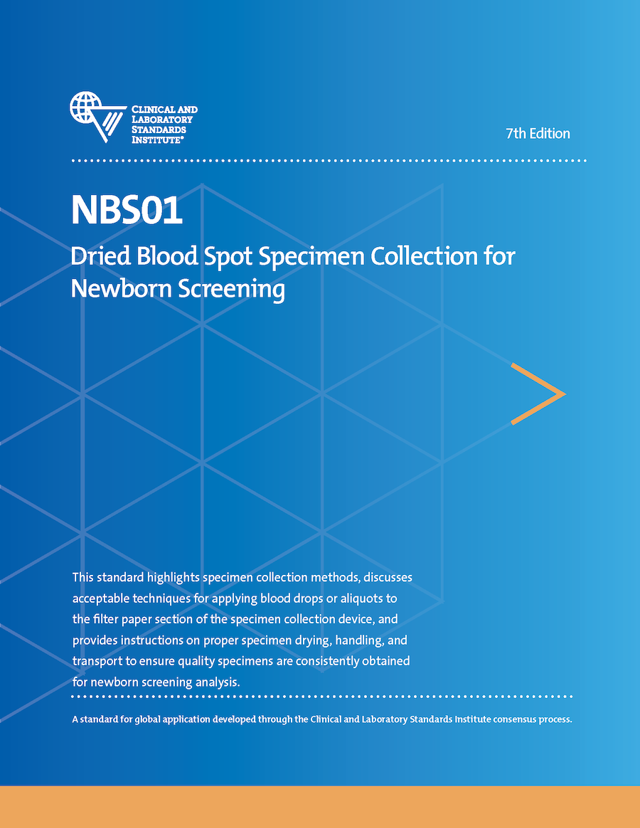 Malvern, PA—The Clinical and Laboratory Standards Institute (CLSI) has published the 7th edition of NBS01—Dried Blood Spot Specimen Collection for Newborn Screening. NBS01 provides descriptive, stepwise processes and procedures for collecting blood spot specimens for newborn screening. This standard was developed and continues to be updated to promote uniform practices for demographic newborn data and specimen collection. An expanded appendix section provides additional images and descriptions of unacceptable blood spot specimens.
NBS01 also provides information on:
Specimen collection device design.
Providing information on consent practices.
Preventing specimen contamination and preanalytical DNA analysis considerations.
Dried blood spot specimen handling, packaging, and transport.
Gustavo JC Borrajo, PhD, Vice-Chairholder of NBS01 said, "NBS01 is an essential tool for newborn screening programs, program organizers, and dried blood spot specimen collectors.  The 7th edition addresses all the issues related to the essentials of correctly collecting a high-quality specimen, handling it after it has been collected, transporting it to the testing facility, and storing the residual specimen that remains after laboratory testing. Its integrated approach from a global perspective covers a wide spectrum of dried blood spots specimen collection techniques to meet newborn screening needs worldwide."
For more information about NBS01, contact Patrick McGinn at pmcginn@clsi.org or +1.484.588.5933.    
 CLSI sets the standard for quality in medical laboratory testing. A not-for-profit membership organization, CLSI brings together the global laboratory community for the advancement of a common cause: to foster excellence in laboratory medicine.    
For over 50 years, our members, volunteers, and customers have made CLSI a respected, transformative leader in the development and implementation of medical laboratory testing standards. Through our unified efforts, we will continue to set and uphold the standards that drive quality test results, enhance patient care delivery, and improve health care around the world.    
By using CLSI standards, laboratorians can improve process quality, speed the development of standard operating procedures, and implement safer practices with greater ease and efficiency.
← Go Back