CLSI Publishes New Edition of POCT05—Performance Metrics for Continuous Interstitial Glucose Monitoring
11/19/2020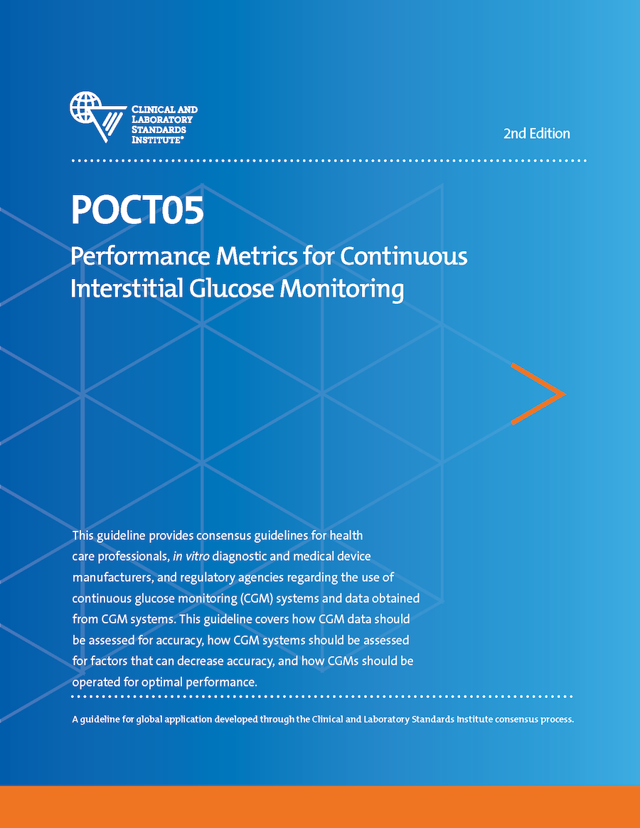 USA—The Clinical and Laboratory Standards Institute (CLSI) has published the 2nd Edition of POCT05—Performance Metrics for Continuous Interstitial Glucose Monitoring.
POCT05 provides consensus information for health care professionals, in vitro diagnostic and medical device manufacturers, and regulatory agencies regarding how continuous glucose monitoring (CGM) data should be assessed for accuracy, how CGM systems should be assessed for factors that can decrease accuracy, and how CGMs should be operated for optimal performance. This guideline defines and explores multiple aspects of CGM performance, including use cases, point and trend accuracy, evaluation of threshold alerts, system stability and reliability, clinical studies for assessing CGM performance, calibration, and measurement traceability.
This standard also discusses special considerations such as:
Shelf life.
Product labeling.


For more information about POCT05, contact Patrick McGinn at pmcginn@clsi.org or +1.484.588.5933.    


 CLSI sets the standard for quality in medical laboratory testing. A not-for-profit membership organization, CLSI brings together the global laboratory community for the advancement of a common cause: to foster excellence in laboratory medicine.    
For over 50 years, our members, volunteers, and customers have made CLSI a respected, transformative leader in the development and implementation of medical laboratory testing standards. Through our unified efforts, we will continue to set and uphold the standards that drive quality test results, enhance patient care delivery, and improve health care around the world.    
By using CLSI standards, laboratorians can improve process quality, speed the development of standard operating procedures, and implement safer practices with greater ease and efficiency.
← Go Back