CLSI Publishes New Edition of Point-of-Care Screening Document
8/4/2020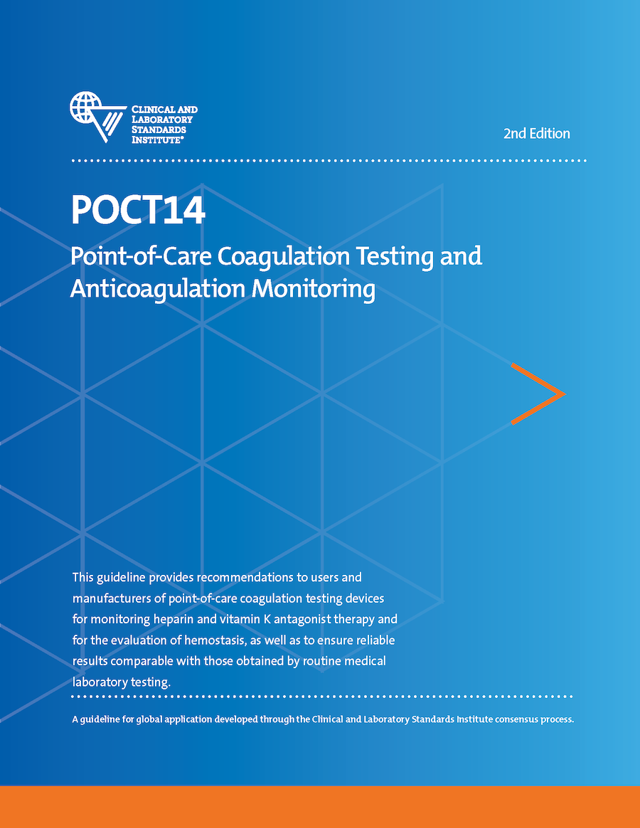 CLSI Publishes POCT14—Point-of-Care Coagulation Testing and Anticoagulation Monitoring, 2nd Ed. The Clinical and Laboratory Standards Institute (CLSI) has published POCT14--Point-of-Care Coagulation Testing and Anticoagulation Monitoring, 2nd Edition.
POCT14 provides recommendations to users and manufacturers of point-of-care coagulation testing devices for monitoring heparin and vitamin K antagonist therapy and for the evaluation of hemostasis, and helps to ensure reliable results comparable with those obtained by routine medical laboratory testing.
POCT14 provides information on POCT testing for:
Vitamin K antagonists such as PT and INR.
Heparin (eg, APTT and ACT).
Information on potential assay interferences, including direct oral anticoagulants are also discussed.

For more information about POCT14, contact Patrick McGinn at pmcginn@clsi.org or +1.484.588.5933.   
  
 CLSI sets the standard for quality in medical laboratory testing. A not-for-profit membership organization, CLSI brings together the global laboratory community for the advancement of a common cause: to foster excellence in laboratory medicine.   
For over 50 years, our members, volunteers, and customers have made CLSI a respected, transformative leader in the development and implementation of medical laboratory testing standards. Through our unified efforts, we will continue to set and uphold the standards that drive quality test results, enhance patient care delivery, and improve health care around the world.   
By using CLSI standards, laboratorians can improve process quality, speed the development of standard operating procedures, and implement safer practices with greater ease and efficiency.
← Go Back