CLSI Publishes New Edition of QMS20—The Cost of Quality in Medical Laboratories
11/19/2020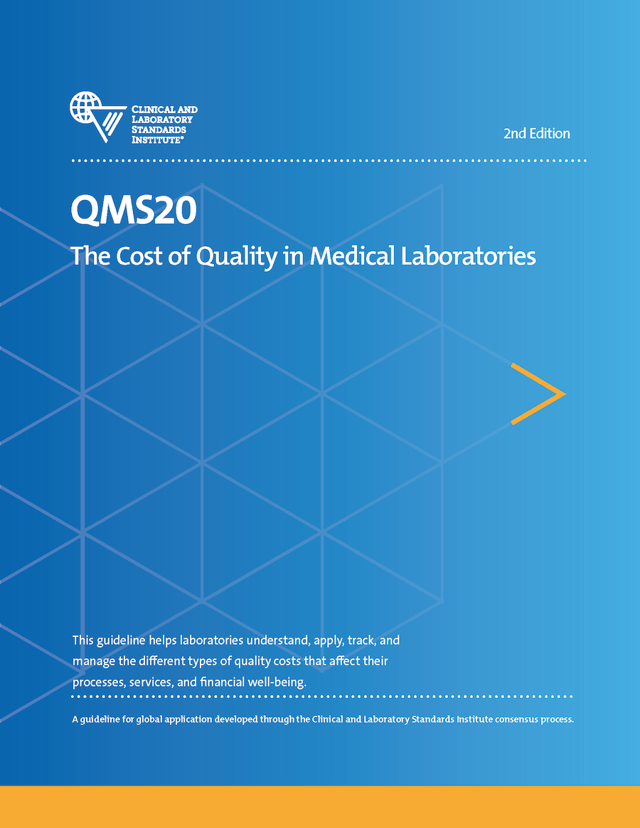 USA—The Clinical and Laboratory Standards Institute (CLSI) has published QMS20—The Cost of Quality in Medical Laboratories, 2nd Edition. This guideline describes quality costs in laboratory expenditures (including prevention, appraisal, internal failure, and external failure costs) and suggests ways that laboratories can apply this information to continually improve their processes, services, and financial performance.
This guideline discusses:
Important relationships between quality and cost.
Analyzing quality costs.
Acting on opportunities for improvement.
Using cost of quality in purchasing decisions.
Lucia M. Berte, MA, MT(ASCP)SBB, DLM, CQA(ASQ)CMQ/OE and Anne T. Daley, MS, MT(ASCP)DLM, CMQ/OE(ASQ)CSBB, Co-Chairholders of QMS20 said, "QMS20 describes four types of quality costs and their effects on your laboratory's budget. This useful guideline provides a simplified way to calculate the costs of specimen recollections and repeat testing that arises from analytical problems. For tracking purposes, a worksheet example is also provided to quantify the failure costs of your laboratory's other quality indicators."                                                              
For more information about QMS20, contact Patrick McGinn at pmcginn@clsi.org or +1.484.588.5933.    
 CLSI sets the standard for quality in medical laboratory testing. A not-for-profit membership organization, CLSI brings together the global laboratory community for the advancement of a common cause: to foster excellence in laboratory medicine.    
For over 50 years, our members, volunteers, and customers have made CLSI a respected, transformative leader in the development and implementation of medical laboratory testing standards. Through our unified efforts, we will continue to set and uphold the standards that drive quality test results, enhance patient care delivery, and improve health care around the world.    
By using CLSI standards, laboratorians can improve process quality, speed the development of standard operating procedures, and implement safer practices with greater ease and efficiency.
← Go Back