CLSI Publishes New Guideline EP39—A Hierarchical Approach to Selecting Surrogate Samples for the Evaluation of In Vitro Medical Laboratory Tests
11/29/2021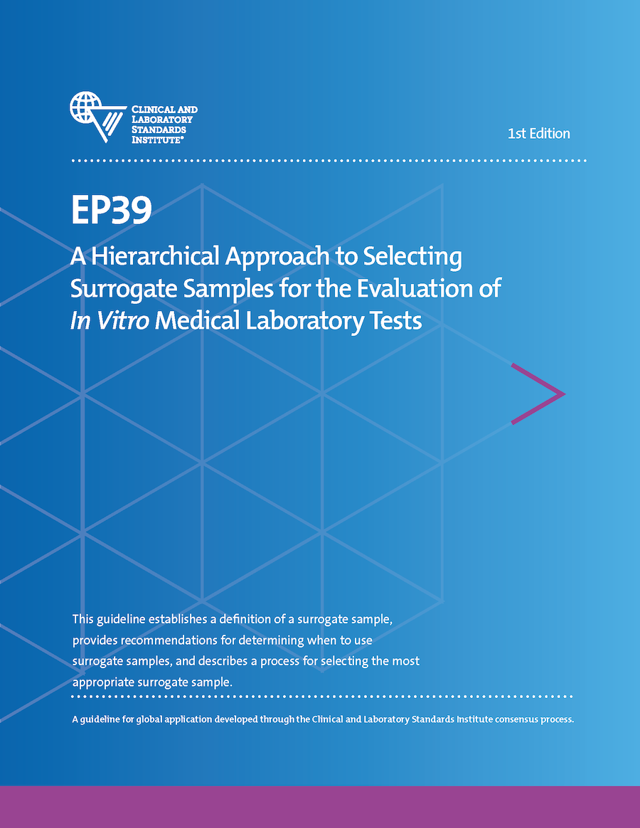 Malvern, PA—The Clinical and Laboratory Standards Institute (CLSI) has published the first edition of guideline EP39—A Hierarchical Approach to Selecting Surrogate Samples for the Evaluation of In Vitro Medical Laboratory Tests.
EP39 establishes a standard definition of a surrogate sample. It presents a hierarchical approach for determining when to use surrogate samples and selecting an appropriate one. It also describes elements of a surrogate sample plan and includes technical preparation guidance for the characteristic to be measured or detected and for artificial matrix compositions. The guideline provides examples for specific performance study types.
EP39 discusses surrogate sample:
Technical preparation.
Selection criteria.
Documentation and planning.
Use in specific performance study types.
The intended users of this guideline are in vitro diagnostic device developers, laboratorians, and regulators.
EP39 expanded on a framework that was developed and published by The Medical Device Innovation Consortium (MDIC) in 2017 by a committee of experts.
For more information about EP39, contact Joanne Christopher at jchristopher@clsi.org or +1.484.588.5907.    
CLSI sets the standard for quality in medical laboratory testing. A not-for-profit membership organization, CLSI brings together the global laboratory community for the advancement of a common cause: to foster excellence in laboratory medicine.    
For over 50 years, our members, volunteers, and customers have made CLSI a respected, transformative leader in the development and implementation of medical laboratory testing standards. Through our unified efforts, we will continue to set and uphold the standards that drive quality test results, enhance patient care delivery, and improve health care around the world.    
By using CLSI standards, laboratorians can improve process quality, speed the development of standard operating procedures, and implement safer practices with greater ease and efficiency.
← Go Back