CLSI publishes new guideline M39—Analysis and Presentation of Cumulative Antimicrobial Susceptibility Test Data
2/7/2022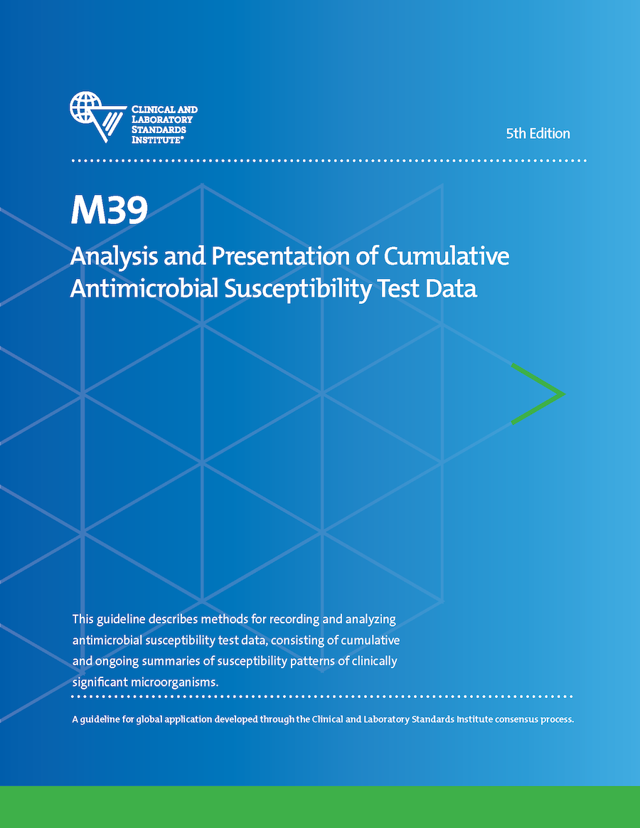 Malvern, PA—The Clinical and Laboratory Standards Institute (CLSI) has published the 5th edition of M39—Analysis and Presentation of Cumulative Antimicrobial Susceptibility Test Data. This guideline describes methods for recording and analyzing antimicrobial susceptibility test data, consisting of cumulative and ongoing summaries of susceptibility patterns of clinically significant microorganisms.
The latest edition of M39 contains new information on:
Extracting data from various sources for antibiogram preparation.
Combining results from rapid diagnostics and resistance markers with the antibiogram.
Developing antibiograms for long-term care facilities and veterinary practices.
Preparation of multifacility antibiograms.
Antibiogram percent susceptible thresholds and empiric therapy considerations.
Sharon M. Erdman,  PharmD,  FIDP,  member of the Working Group on Cumulative AST Data Analysis said, "M39 is the only guideline available for antibiogram development. The document highlights the standardized processes that should be used for the routine generation and storage of susceptibility data and calculation of the percent susceptibility statistic, as well as provides various formats for data presentation. The cumulative susceptibility data conveyed in an antibiogram are used in numerous clinical situations but are most useful for optimizing empirical antibiotic choice and enhancing antimicrobial stewardship efforts. The intended audience of this guideline includes medical/microbiology laboratories, data software analysts, infection prevention practitioners, and any clinician involved in the prescribing of antibiotics."
For more information about M39, contact Joanne Christopher at jchristopher@clsi.org  or +1.484.588.5907.  
  
 CLSI sets the standard for quality in medical laboratory testing. A not-for-profit membership organization, CLSI brings together the global laboratory community for the advancement of a common cause: to foster excellence in laboratory medicine.   
  
For over 50 years, our members, volunteers, and customers have made CLSI a respected, transformative leader in the development and implementation of medical laboratory testing standards. Through our unified efforts, we will continue to set and uphold the standards that drive quality test results, enhance patient care delivery, and improve health care around the world.   
By using CLSI standards, laboratorians can improve process quality, speed the development of standard operating procedures, and implement safer practices with greater ease and efficiency.
← Go Back