CLSI Publishes New Guideline MM24—Molecular Methods for Genotyping and Strain Typing of Infectious Organisms
10/19/2021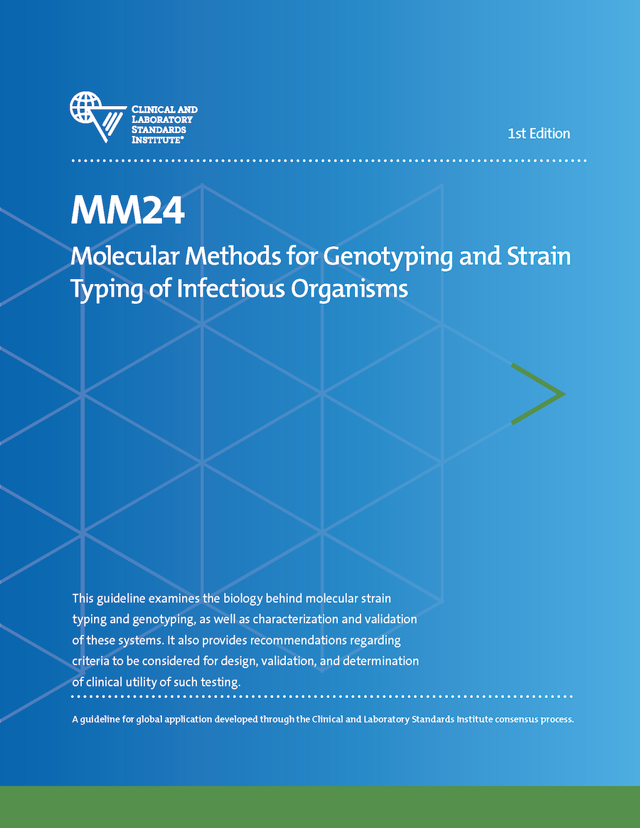 Malvern, PA—The Clinical and Laboratory Standards Institute (CLSI) has published the first edition of MM24—Molecular Methods for Genotyping and Strain Typing of Infectious Organisms. MM24 examines the biology behind molecular genotyping and strain typing and the process of characterizing and validating typing systems. The current methods used in laboratories that perform genotyping and strain typing are described in detail specific to the genotyping and strain typing of nucleic acid in clinical testing and monitoring, particularly in bacterial, fungal, and viral diseases. This guideline also includes information on sample preparation, standards, calibrators, reference materials, analytical and clinical verification/validation, reporting and interpreting results, and clinical utility.

Additional resources are provided, including:
Information on commonly used software and web-based platforms to perform bacterial and virus genotyping.
A form for triaging and submitting referral specimens.
A sample bacterial strain typing report.

For more information about MM24, contact Patrick McGinn at pmcginn@clsi.org or +1.484.588.5933.   
  
 CLSI sets the standard for quality in medical laboratory testing. A not-for-profit membership organization, CLSI brings together the global laboratory community for the advancement of a common cause: to foster excellence in laboratory medicine.   
  
For over 50 years, our members, volunteers, and customers have made CLSI a respected, transformative leader in the development and implementation of medical laboratory testing standards. Through our unified efforts, we will continue to set and uphold the standards that drive quality test results, enhance patient care delivery, and improve health care around the world.   
By using CLSI standards, laboratorians can improve process quality, speed the development of standard operating procedures, and implement safer practices with greater ease and efficiency.
← Go Back