CLSI Publishes New Guideline NBS09—Newborn Screening for X-Linked Adrenoleukodystrophy
9/28/2021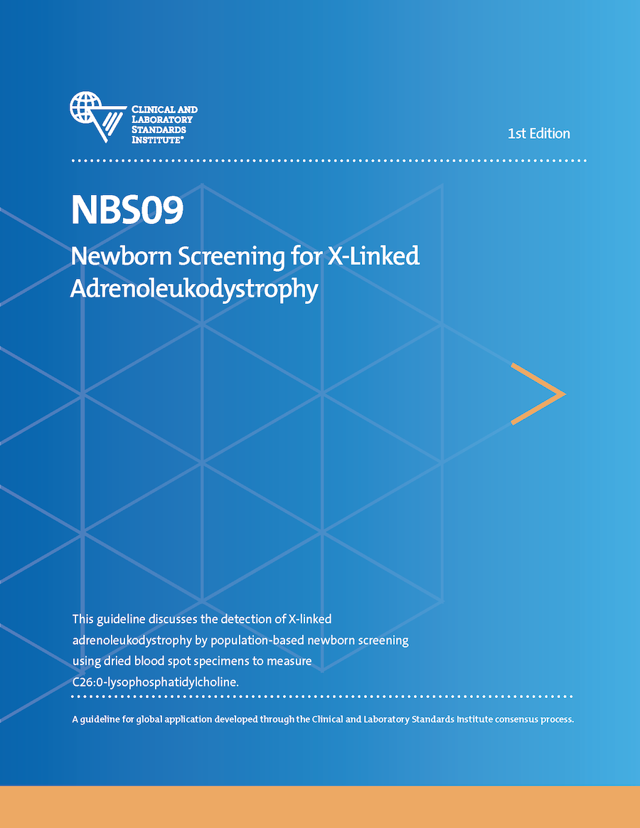 Malvern, PA—The Clinical and Laboratory Standards Institute (CLSI) has published the first edition of NBS09— Newborn Screening for X-Linked Adrenoleukodystrophy. NBS09 describes the currently available laboratory tests used to measure C26:0-lysophosphatidylcholine in dried blood spot (DBS) specimens. Early detection of adrenoleukodystrophy (ALD) is critical, because untreated male children with ALD have a 50% chance of developing adrenal insufficiency before the age of 10 and a 30% to 35% chance of developing cerebral disease, which has occurred as early as 2.75 years of age. This guideline includes a laboratory operations overview, with details about physical layout, instrumentation, protocols, automated methodologies, and potential for future expansion. Steps for implementing ALD newborn DBS screening, including validating the laboratory test, conducting pilot studies, and transitioning to routine screening, are discussed.
Analytical methods for detection of x-linked adrenoleukodystrophy are discussed, including:
An overview of available tandem mass-spectrometry methods.
Sample extraction and biomarkers.
Flow injection analysis.
For more information about NBS09, contact Patrick McGinn at pmcginn@clsi.org or +1.484.588.5933.    


 CLSI sets the standard for quality in medical laboratory testing. A not-for-profit membership organization, CLSI brings together the global laboratory community for the advancement of a common cause: to foster excellence in laboratory medicine.    
For over 50 years, our members, volunteers, and customers have made CLSI a respected, transformative leader in the development and implementation of medical laboratory testing standards. Through our unified efforts, we will continue to set and uphold the standards that drive quality test results, enhance patient care delivery, and improve health care around the world.    
By using CLSI standards, laboratorians can improve process quality, speed the development of standard operating procedures, and implement safer practices with greater ease and efficiency.
← Go Back