CLSI Publishes Principles and Procedures for Blood Cultures, 2nd Edition
4/25/2022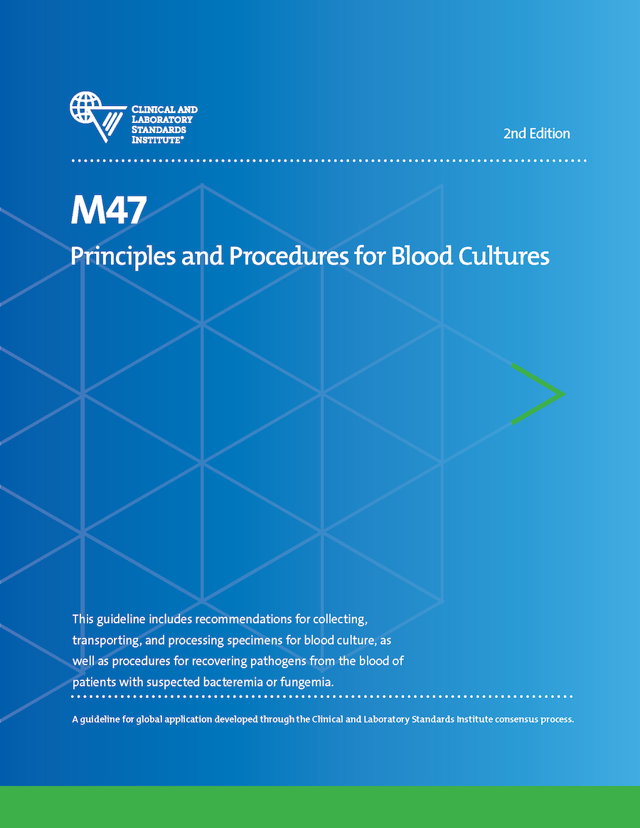 Malvern, PA—The Clinical and Laboratory Standards Institute (CLSI) has published the second edition of M47—Principles and Procedures for Blood Cultures.
M47 discusses the clinical significance of blood cultures, critical factors in recovering pathogens from blood specimens, selection of medium formulations and other laboratory practices, and development of interpretive criteria. It also discusses existing blood culture technologies and the relative benefits of these technologies.
Special topics are covered, including:
Pediatric blood cultures.
Catheter-related bloodstream infections.
Infective endocarditis.
Diagnostic testing for patients who are receiving antimicrobial therapy.
Rare and fastidious pathogens.
This guideline is intended to provide recommendations to clinical microbiologists, other laboratorians (eg, pathologists, supervisors and/or managers, phlebotomists), and health care providers for recovering pathogens from the blood of patients with suspected bacteremia, mycobacteremia, or fungemia. It is also intended for administrators who develop institutional best practices. Specific recommendations for collecting, transporting, and processing blood culture specimens are included.
Michael L. Wilson, MD, Chairholder of M47, said, "M47 is the only guideline available for an evidence-based approach to blood cultures. The document highlights the medical indications for blood cultures along with standardized processes for specimen collection as well as methods to optimize recovery of pathogens. The guideline also presents up to date information about the use of blood cultures for special patient populations, as these populations present special challenges for the detection of bacteremia or fungemia. The intended audience of this guideline includes medical/microbiology laboratories, infection prevention practitioners, and any clinician involved in the care of patients with suspected bacteremia or fungemia."
For more information about M47, contact Joanne Christopher at jchristopher@clsi.org or +1.484.588.5907.    
 CLSI sets the standard for quality in medical laboratory testing. A not-for-profit membership organization, CLSI brings together the global laboratory community for the advancement of a common cause: to foster excellence in laboratory medicine.    
For over 50 years, our members, volunteers, and customers have made CLSI a respected, transformative leader in the development and implementation of medical laboratory testing standards. Through our unified efforts, we will continue to set and uphold the standards that drive quality test results, enhance patient care delivery, and improve health care around the world.    
By using CLSI standards, laboratorians can improve process quality, speed the development of standard operating procedures, and implement safer practices with greater ease and efficiency.
← Go Back