The CLSI Outreach Working Group (ORWG), under CLSI's Subcommittee on Antimicrobial Susceptibility Testing (AST), works to efficiently convey information regarding contemporary AST practices, recommendations, and resources to the clinical microbiology community. Their biannual News Updates highlight recent issues related to antimicrobial susceptibility testing (AST) and reporting.
Volume 7, Issue 1, June 2022
Edited By: Janet A. Hindler, MCLS, MT(ASCP), F(AAM) & Audrey N. Schuetz, MD, MPH, D(ABMM)
View all of the articles below in one PDF by clicking below.
Featured Article
Direct Disk Diffusion Testing From Positive Blood Cultures
Case Study
What's Wrong with This Picture? Coagulase-negative Staphylococcus spp
Case Study
What's Wrong with This Picture? Serratia marcescens
Practical Tips
Updating Breakpoints–New Developments from CAP
More News
ASM Updates IQCP Guidance
More News
The Joint CLSI-EUCAST Working Group
In Memoriam
James A. Poupard, PhD (1943-2022)
CLSI and the AST Subcommittee
CLSI has subcommittees that are responsible for areas related to AMR. They write draft documents, evaluate and respond to comments on content throughout the document development process, conduct scheduled document reviews, and may be responsible for continual revision of certain documents.
CLSI's AST Subcommittee meets twice per year in a hybrid format (in-person with a virtual component) in January and June. More information can be found in the links below.
How to Get Involved
Working groups are managed by chairholders. If you would like to volunteer to become a member of a working group, please fill out our form below. You can also complete your Volunteer Profile to be placed in the "potential volunteers pool" for future positions.
I'm interested! What are my next steps?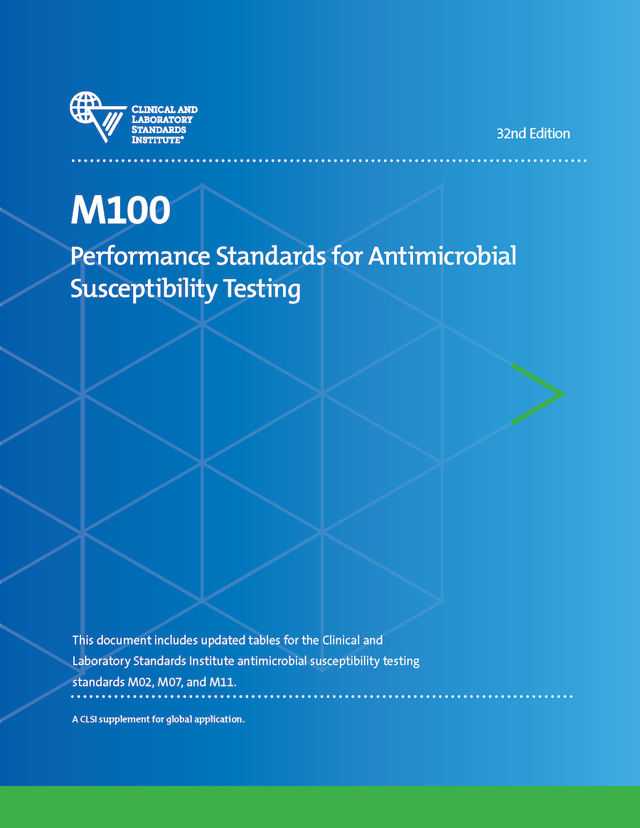 Free M100 and M27M44S
Performance Standards for Antimicrobial & Antifungal Susceptibility Testing
Access read-only web versions of M100 and M27M44S for free and quickly reference the most trusted AST and antifungal breakpoints. Available online as a convenient companion to our M100 document and M27M44S document.
Using M100-Ed32
Using M100: Performance Standards for Antimicrobial Susceptibility Testing
Improve your lab's antimicrobial susceptibility testing (AST) by using this self-paced, online learning program. This interactive program will teach you how to navigate the many tables found in CLSI's document M100.
BPIU
Breakpoints in Use
CLSI's Outreach Working Group has developed this free, optional spreadsheet that laboratories can use to record breakpoints in use.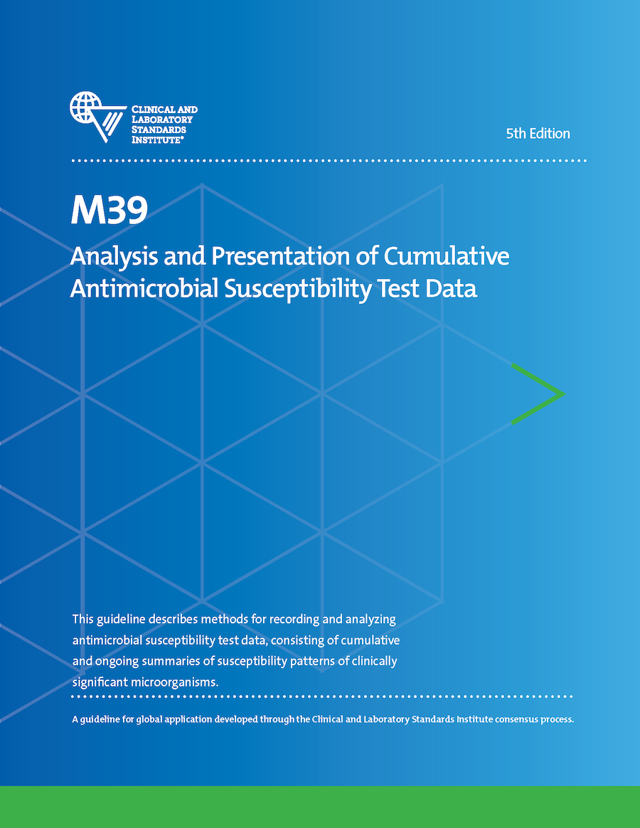 M39
Analysis and Presentation of Cumulative Antimicrobial Susceptibility Test Data, 5th Edition
This guideline describes methods for recording and analyzing antimicrobial susceptibility test data, consisting of cumulative and ongoing summaries of susceptibility patterns of clinically significant microorganisms.
On-Demand Webinars |
Recently archived CLSI webinars can be accessed on demand and after six months are free unless noted otherwise.
SIDP/ACCP/CLSI Webinar 2022
The Laboratory-Stewardship Partnership: Putting Susceptibility Testing Results for Gram Negative Organisms Into Practice
On-Demand M39 Webinar
M39: Analysis and Presentation of Cumulative Antimicrobial Susceptibility Test Data
Learn about CLSI's updated M39 document, Analysis and Presentation of Cumulative Antimicrobial Susceptibility Test Data.
On-Demand: ASTUpdate22IndWR1
CLSI 2022 AST Webinar: M100-Ed32 Updates - On Demand
On-Demand CLSI and CAP Webinar 2022
Breakpoints Matter: Understanding CLSI Efforts and New CAP Requirements to Ensure Appropriate Antimicrobial Treatment for all Patients
On-Demand CLSI and CAP 2021 Webinar
Ensuring Quality Beyond the Test: Reporting Antimicrobial Susceptibility Results
Thursday, January 21, 2021 | 1:00–2:00 PM Eastern (US) Time
Free On Demand: Rationale Webinar
FDA's Role in ASTs and Understanding CLSI Breakpoint Decisions
December 17, 2020 | 1:00-2:00 PM Eastern (US) Time
AST Subcommittee Partnerships
Representatives with expertise in antimicrobials from the following organizations attend and participate in CLSI AST Subcommittee meetings and aid in dissemination of information regarding CLSI decisions and AST issues.
American College of Clinical Pharmacy
Infectious Diseases Practice and Research Network (ACCP INFD PRN)
American Society for Microbiology (ASM)
Association of Public Health Laboratories (APHL)
ASTM International
College of American Pathologists (CAP)
European Committee on Antimicrobial Susceptibility Testing (EUCAST)
Infectious Diseases Society of America (IDSA)
Pediatric Infectious Diseases Society (PIDS)
Society for Healthcare Epidemiology of America (SHEA)
Society of Infectious Diseases Pharmacists (SIDP)
Susceptibility Testing Manufacturers Association (STMA)
New Members
| Company | State/Prov | Country | Membership | Category | Join Date |
| --- | --- | --- | --- | --- | --- |