CLSI's Quality Management System Resources
What Your Lab Needs, What Your Patients Deserve
An effective quality management system is the cornerstone for the delivery of superior patient care and high-quality test results in the lab. CLSI's quality management system standards can help your lab with easy to understand and use documents that show you how to implement a quality management system. Our standards documents cover a range of subjects, including management of laboratory documents, training and competence assessment, laboratory design, and nonconforming event management.
Featured Products |
View our recently published quality products.
CLSI LQMS
Laboratory Quality Management System Certificate Program
Earn P.A.C.E.® credits with this self-paced online learning program that will give you the knowledge and skills necessary for successful implementation and sustainment of a quality management system in your lab.
CLSI QMS01
A Quality Management System Model for Laboratory Services, 5th Edition
This guideline provides a model for medical laboratories to organize the implementation and management of an effective quality management system.
CLSI QMS05
Qualifying, Selecting, and Evaluating a Referral Laboratory, 3rd Edition
This guideline provides recommended criteria and easily implemented processes to qualify, select, and evaluate a referral laboratory.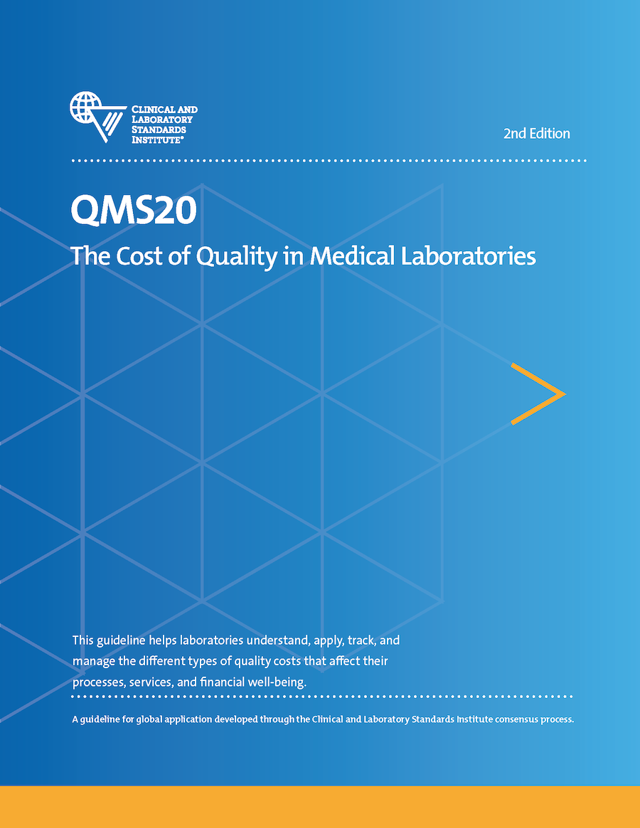 CLSI QMS20
The Cost of Quality in Medical Laboratories, 2nd Edition
This guideline helps laboratories understand, apply, track, and manage the different types of quality costs that affect their processes, services, and financial well-being.
Sign-Up to Receive More Information
More About CLSI
Globally Recognized Standards Documents
Developed by our members for use by the global laboratory community, CLSI's consensus-based medical laboratory standards are the most widely recognized resources for continually improving testing quality, safety, and efficiency. Organizations use CLSI standards to improve their testing outcomes, maintain accreditation, bring products to market faster, and navigate regulatory hurdles.
Global Training and Partnerships
Through our Partnerships program, CLSI provides international outreach services and hands-on support to laboratories around the world, helping them achieve sustainable quality with systems to better diagnose and treat patients with infectious diseases.