Method Evaluation |
Standards
CLSI's Method Evaluation standards provide concise explanations and step-by-step instructions for evaluation of test method performance characteristics such as precision and accuracy. We provide your lab with the information needed to comply and keep up-to-date with the latest best practice guidelines and laboratory accreditation requirements.  
Featured Products
This guideline includes descriptions of the types of qualitative, binary output examinations and procedures for evaluating their performance.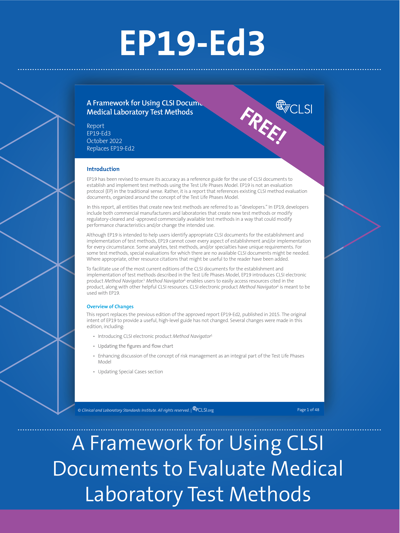 This report introduces the Test Life Phases Model, which points users to CLSI evaluation protocol documents to establish and implement commercially manufactured or laboratory-developed test methods.
This implementation guide describes the minimum procedures necessary for a medical laboratory to verify the comparability of patient results across a health care system. It also includes a link to CLSI workbook EP31-Ed1-WB, Verification of Comparability of Patient Results Within One Health Care System Workbook.
Method Navigator is an online subscription product that provides users with quick and easy access to specific guidance from CLSI documents.
Browse Standards