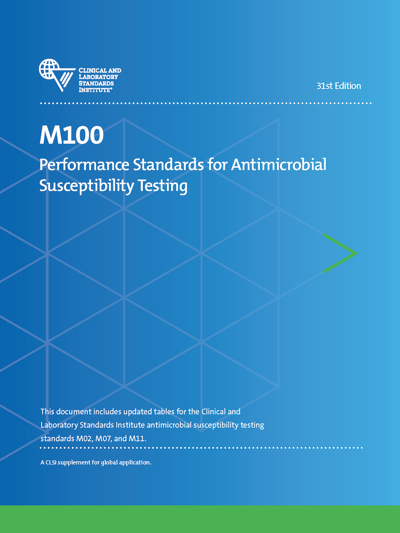 M100
Performance Standards for Antimicrobial Susceptibility Testing, 31st Edition
This document includes updated tables for the Clinical and Laboratory Standards Institute antimicrobial susceptibility testing standards M02, M07, and M11.
This edition of the document was corrected in April 2021. Read the full correction notice here, and learn more about our corrections process here.
The 32nd Edition of M100 will publish in February 2022. To preorder click here.
Members: $54.00 → $153.00
Nonmembers: $180.00
Details
Chairholder: Melvin P. Weinstein, MD
Date of Publication: March 23, 2021
Order Code PDF: M100Ed31E
ISBN Number: 978-1-68440-105-5
Order Code Print: M100Ed31
ISBN Number: 978-1-68440-104-8
Edition: 31
Pages: 352