Newborn Screening |
Standards
Early detection, diagnosis, and treatment of newborn diseases are critically important. Timely newborn screening can prevent death and improve patient care outcomes. CLSI newborn screening laboratory standards provide test collection instructions, as well as information on methods for the detection of metabolic and hereditary disorders. Browse our newborn screening products below. 
Featured Products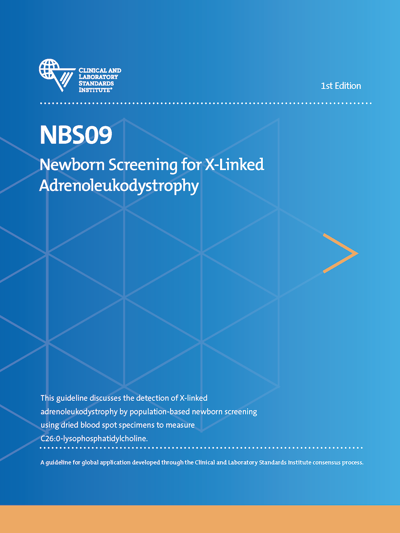 This guideline discusses the detection of X-linked. adrenoleukodystrophy by population-based newborn screening using dried blood spot specimens to measure C26:0-lysophosphatidylcholine.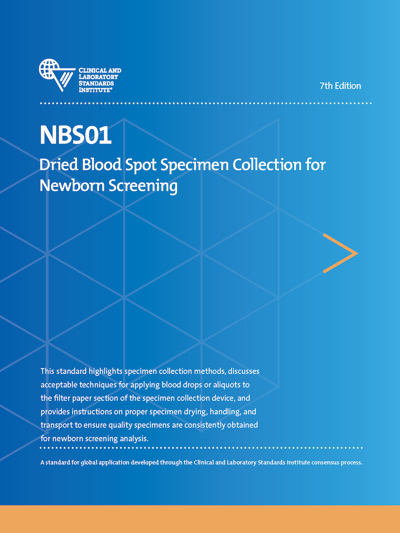 This standard highlights specimen collection methods, discusses acceptable techniques for applying blood drops or aliquots to the filter paper section of the specimen collection device, and provides instructions on proper specimen drying, handling, and transport to ensure quality specimens are consistently obtained for newborn screening analysis.
This guideline describes newborn screening laboratory tests for detecting analytes and genetic markers associated with cystic fibrosis (CF). It includes both the primary screening tests and second-tier tests performed on newborn dried blood spot specimens, as well as the screening strategies for identifying babies at increased risk for developing CF.
This guideline describes the recommended protocols for detecting hemoglobinopathies and thalassemias by population-based newborn screening using dried blood spot specimens. Early, presymptomatic detection to identify newborns with abnormal hemoglobins is critical because it improves treatment effectiveness.
Browse Standards