CLSI Celebrates One Health Day 2023
11/2/2023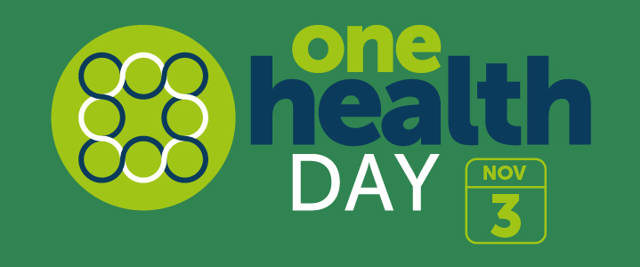 November 3, 2023 is the eighth annual One Health Day. This global campaign highlights the need for an integrated approach to tackle shared health threats around the world. The One Health approach spans a multitude of disciplines and sectors to achieve optimal health outcomes for people, animals, plants, and their shared ecosystems, through coordinated interventions. A "one health" approach can be particularly effective for complex public health issues such as antimicrobial resistance (AMR), climate change and environmental health, food safety, mental health, vector-borne diseases, zoonotic diseases, and more.
CLSI's One Health Role: AMR & AST
Antimicrobial resistance (AMR) is a serious global health threat that occurs when microorganisms such as bacteria, viruses, fungi, and parasites evolve to resist the effects of the medicines used to control them. This resistance makes infections in people and animals harder to treat, increasing the spread of disease and the risk of severe illness and death. AMR is driven by the misuse and overuse of antimicrobials in humans and livestock, as well as by lack of clean water, sanitation, and infection prevention and control measures. AMR poses a significant economic burden on health systems and societies and impacts global health and international trade.
CLSI is at the forefront in the fight against AMR through our development of microbiology laboratory standards, including best practices for antimicrobial susceptibility testing (AST) for both human and veterinary patients.
CLSI's experts continually monitor and revise our antimicrobial susceptibility testing standards and breakpoints to provide laboratories and clinicians the most up-to-date tools for determining the most appropriate course of treatment for their patients, ultimately leading to better health outcomes.  Implementation of current breakpoints is a critical step for combatting AMR globally by ensuring that resistant microorganisms are treated with therapeutics that will be effective and avoiding treatments that will contribute to acquired resistance.
Due to the safety concerns and impact on patient care associated with using obsolete breakpoints, the College of American Pathologists (CAP), an international accrediting body for clinical laboratories, has developed a new checklist item that requires all clinical laboratories to update their systems and AST processes to be compliant with current breakpoints by January 1, 2024. Laboratories will have 3 years to make updates and will be required to be aware of which breakpoints they are applying. 
In an effort to help laboratories make these required changes, CLSI, the Association of Public Health Laboratories (APHL), the American Society for Microbiology (ASM), the College of American Pathologists (CAP), and the Centers for Disease Control and Prevention (CDC) have jointly developed a free Breakpoint Implementation Toolkit (BIT).
 
The kit is provided in a streamlined format and designed to guide performance of a verification or validation study required to update breakpoints. Also included are links to other resources that explain the rationale behind breakpoint updates, regulatory requirements for updating breakpoints, and detailed instructions for performing an AST breakpoint validation or verification. A free webinar is also available that explains how to use the BIT. Since the tool was launched this summer, more than 12,000 participants from all over the globe have accessed the kit and related training.
CLSI's One Health Role: Promotion of Health Practices
The CLSI Susceptibility Testing Subcommittees and Resources page contains other helpful AST resources, including free documents, webinars, and the AST Outreach Working Group (ORWG) newsletter.
The CLSI MicroFree portal enables users to freely access the most trusted and updated information on Antimicrobial Susceptibility Testing, a critical need for laboratories and providers dealing with drug-resistant pathogens and infections. The portal provides digital access to some of the most important global standards. Earlier this year, CLSI was awarded a Power of Associations Gold Award from the American Society of Association Executives (ASAE) in recognition of the utility and reach of this free product, which currently sees more than 80,000 users per year accessing these tools.
CLSI's One Health Role: Integrated Approach to Public Health Safety
This summer, members of CLSI's VAST Committee, in partnership with Ohio State University Veterinary Medical Clinic and the Inter-American Institute for Cooperation on Agriculture (IICA) Safety and Food Quality Program, launched a bilingual virtual education program for laboratories throughout Latin America, designed to improve surveillance techniques throughout the region.
45 participants from 13 countries participated in the six-week pilot program, which is to be expanded to another 21 countries next year. Through the course, participants learned good practices for laboratory set up and operating procedures, receipt and evaluation of samples, primary and supplemental test methods, and interpretation of results. Participating countries included Argentina, Belize, Chile, Colombia, Costa Rica, Ecuador, El Salvador, Honduras, Jamaica, Mexico, Nicaragua and Trinidad and Tobago.
A participant from Nicaragua's Institute of Agricultural Protection and Health, highlighted the significance of being able to standardize techniques and testing throughout the region and the ability to improve the level of surveillance data and the monitoring of diseases that impact food production.
One Health is making strides in connecting experts across disciplines and fields of science to solve complicated problems impacting the health and wellness of our entire ecosystem, but we must all do our part to drive this approach forward. At CLSI we believe strongly in the inclusiveness of this approach and the necessity of systemic solutions to combat the increasingly challenging array of threats to global health. We are proud to join the many organizations in highlighting and supporting the efforts of all those committed to the cause, and will continue to engage experts in both human and animal health through our standards and education efforts.
CLSI's AST subcommittees write draft documents, evaluate and respond to comments on content throughout the document development process, conduct scheduled document reviews, and may be responsible for continual revision of certain documents.

CLSI has established subcommittees in the following areas:
Antimicrobial Susceptibility Testing (AST) Subcommittee
Antifungal Susceptibility Testing Subcommittee
Veterinary Antimicrobial Susceptibility Testing (VAST)
These subcommittees will meet in Tempe, Arizona in January at a Committees Week Meeting hosted by CLSI that will highlight important College of American Pathologist (CAP) required changes.
← Go Back