Member Case Study: Creating a CLSI Intelligence Team at Your Organization
3/1/2023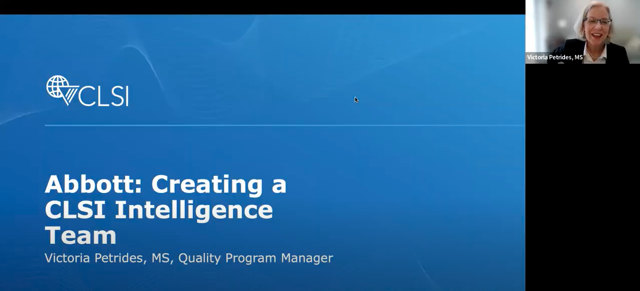 During CLSI's latest member webinar, Expanding CLSI Involvement at Your Organization, member delegate Victoria Petrides, MS, Program Manager, Technical Design Quality from Abbott discussed how Abbott set up a CLSI Intelligence Team to increase volunteer involvement. Some of the key points from the webinar included the advantages of expanded CLSI involvement, the challenges faced by Abbott before the formation of the CLSI Intelligence Team, and a roadmap to expanding CLSI involvement at your organization.
Advantages of Expanding CLSI Involvement—For You and Your Organization
Vicki noted that CLSI involvement allows organizations to have influence and lead industry standards, as well as stay informed about evolving industry practices. She spoke about the professional development and networking opportunities that volunteering with CLSI can provide.
"Volunteering gives you an opportunity to develop professionally and network with others," Vicki noted. "I've spent my entire career at Abbott, and while it's been great, one of the concerns that I had was that I was perhaps not fully aware of what else was out there, how other manufacturers, regulatory agencies, hospitals, and laboratories were doing things. Participating on CLSI committees helped me see other perspectives that I wouldn't have seen otherwise and has been an educational and rewarding experience."
Challenges Before Forming the CLSI Intelligence Team
One of the biggest obstacles to getting colleagues involved in volunteering was Abbott's size—it has six diagnostic divisions with 100,000 employees worldwide. Another challenge was the diversity of Abbott's product portfolio, which includes blood screening, clinical chemistry, hematology, immunoassay, molecular rapid tests, point-of-care tests, large instrument systems, continuous glucose monitors, and lab track systems.
A Roadmap to Expanding CLSI Involvement at Your Organization
The CLSI Intelligence Team's responsibilities include identifying CLSI topic areas and documents relevant to each Abbott business, soliciting volunteers to participate in CLSI activities, gathering input and sharing knowledge relevant to CLSI activities across businesses and functional areas, and assessing and communicating the impact of new or revised documents across businesses areas.
Setting up the team involved creating a CLSI standards matrix to identify which documents were most relevant to Abbott. CLSI Intelligence Team monthly meetings were held to communicate developments and opportunities such as committee updates; volunteer opportunities, applications and appointments; documents coming up for comment or vote; and upcoming or final CLSI publications.
When an Abbott employee participates on a CLSI committee, they're encouraged to create an internal shadow team to talk about documents and make sure they're getting the input they need across businesses before commenting and voting on a document. They then bring discussion points back to the CLSI Intelligence Team. Documents are then circulated for internal review and comments are collated before the delegate votes on a document.
Recently, CLSI rolled out a commenting feature which allows employees of a member organization to comment directly on a document. The delegate is then able to access and review the comments all in one convenient place. This reduces the time that would otherwise be spent circulating and collating comments.
Get Started Today
By setting up the CLSI Intelligence Team, Abbott has been able to increase volunteer involvement and better represent the needs of all stakeholders. Learn more about how you can create your own CLSI Intelligence Team by listening to our webinar on demand.
← Go Back