Standardization of Veterinary Susceptibility Testing
2/15/2021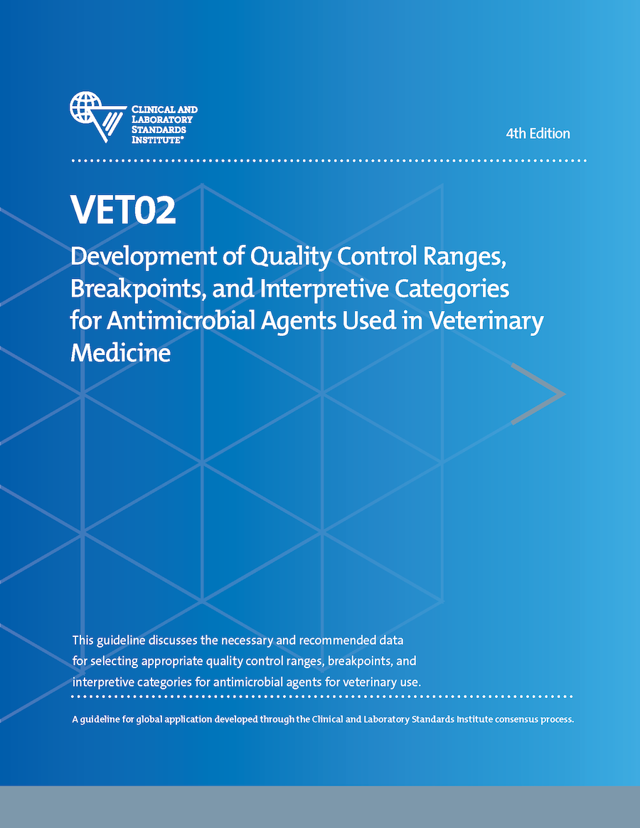 Not all laboratories use CLSI or other available standards for interpretation of veterinary culture specimens. However, if a laboratory does not adhere to a public standard, such as CLSI's, breakpoints may vary and interpretation may be inconsistent from laboratory to laboratory, or among different regions of the country.1
Volunteers for CLSI's Subcommittee on Veterinary Antimicrobial Susceptibility Testing (VAST) collaborate to develop standards and guidelines that promote accurate antimicrobial susceptibility testing and appropriate reporting. Individuals from the following areas collaborate to pool knowledge and expertise:
Veterinary microbiology laboratories.
Government agencies.
Veterinary care providers and educators.
Pharmaceutical and diagnostic microbiology laboratories.
CLSI's guideline VET02—Development of Quality Control Ranges, Breakpoints, and Interpretive Categories for Antimicrobial Agents Used in Veterinary Medicine provides recommendations for developing QC ranges, agar disk diffusion zones of inhibition breakpoints, and dilution minimal inhibitory concentration breakpoints for antimicrobial susceptibility tests for aerobic bacteria isolated from animals and performed by CLSI antimicrobial susceptibility testing standards. It describes the data used by the VAST Subcommittee to establish these QC ranges, breakpoints, and interpretive categories for antimicrobial agents intended for veterinary use.
Host-specific pharmacokinetics, in vitro drug characteristics, distributions of microorganisms, and correlation of test results with outcome statistics are described for interpretation of test results. As antimicrobial agents are used in practice, additional experience accrued may be used to reassess QC ranges, breakpoints, or interpretive categories.
Brian V. Lubbers, DVM, PhD, DACVCP, chairholder of the VAST Subcommittee said, "The release of the newest edition of the VET02 guideline is an exciting step forward for the CLSI Veterinary Antimicrobial Susceptibility Testing (VAST) Subcommittee and users of our products. The VET02 (formerly M37 document) is our "how-to manual" for developing quality control ranges, breakpoints, and interpretive categories. Although the primary audience for this guideline will be pharmaceutical sponsors seeking to develop interpretive criteria for their antimicrobial agents, the newest edition of the VET02 provides additional insight and clarity to this process which we hope will encourage the development of more veterinary-specific breakpoints to the benefit of the greater laboratory community."
Papich MG. Antimicrobials, susceptibility testing, and minimum inhibitory concentrations (MIC) in veterinary infection treatment. Vet Clin North Am Small Anim Pract. 2013;43(5):1079-1089. doi:10.1016/j.cvsm.2013.04.005
← Go Back