The Importance of Proper Collection of Capillary Blood Specimens
2/12/2021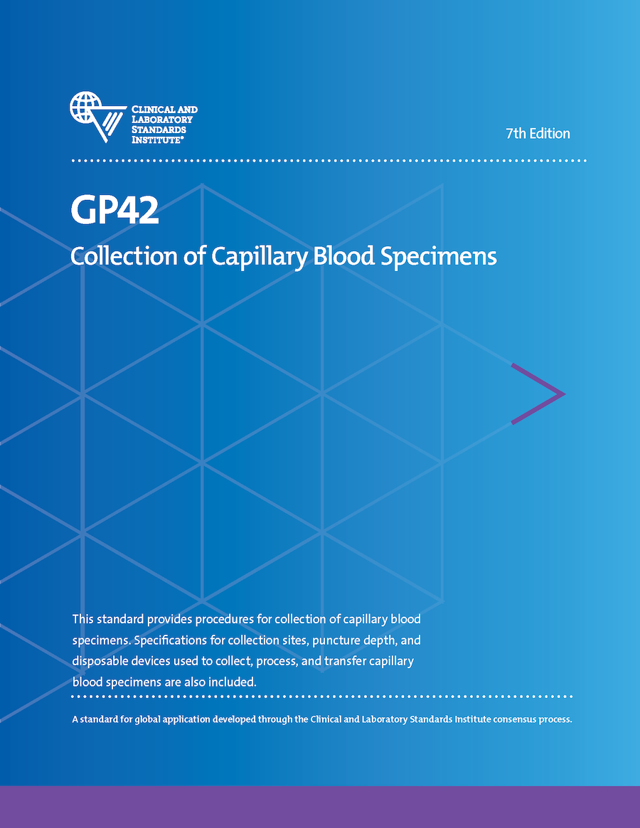 The latest edition of CLSI's GP42 standard—Collection of Capillary Blood Specimens, provides guidance for proper capillary blood collection procedures and processes to ensure the safety of the patient as well as the health care professional responsible for blood specimen collections. Maintaining a standardized collection procedure will help reduce preexamination errors that contribute to inaccurate test results and can result in patient harm.
Specifications for collection sites, puncture depth, and disposable devices used to collect, process, and transfer capillary blood specimens are also included.
Some important changes to this new edition include:
Providing greater detail on patient identification, registration, and specimen labeling processes.
Revising identification of proper puncture sites.
Expanding patient positioning instructions.
Updating figures.
According to a post in Phlebotomy Today, a blog written by industry expert and Director of the Center for Phlebotomy Education, Inc., Dennis J. Ernst, MT(ASCP), NCPT(NCCT), "Users of the standard will appreciate the expanded section differentiating test results that vary significantly from venous blood samples. That's important because most facilities that test capillary samples still list reference ranges on the lab report that are based on venous blood, and usually without noting that the sample tested was capillary blood. Physicians who use venous blood normals for interpreting capillary blood are likely to misinterpret total protein, bilirubin, calcium, sodium, and chloride results, which are significantly lower in capillary blood. Likewise for glucose results, which are significantly higher. The plot (and capillary blood) thickens for one-day-old newborns, whose hemoglobin and hematocrit values are up to 12% higher in capillary blood."
For more information, sample pages, and an informative video about GP42, visit https://clsi.org/standards/products/general-laboratory/documents/gp42/.
← Go Back