World Antimicrobial Awareness Week
11/16/2021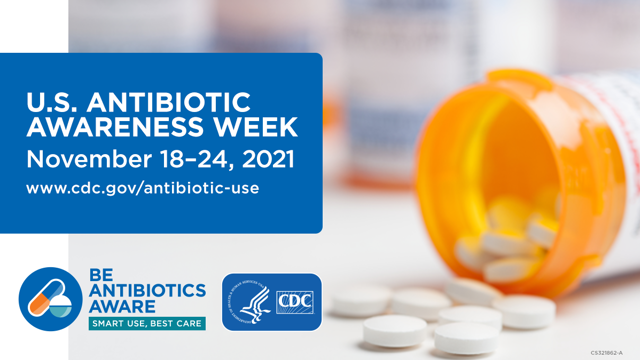 World Antimicrobial Awareness Week (WAAW) is celebrated from November 18-24 every year. The 2021 theme, "Spread Awareness, Stop Resistance," calls on One Health stakeholders, policymakers, health care providers, and the general public to be antimicrobial resistance (AMR) Awareness champions. A media toolkit is available for those who wish to participate.
The Centers for Disease Control and Prevention (CDC)'s US Antibiotic Awareness Week (USAAW), also celebrated from November 18-24, is another annual observance that raises awareness of the threat of antimicrobial resistance, also often referred to as antibiotic resistance, and the importance of appropriate antimicrobial use. This year's theme is "Be antibiotics aware. Smart use, best care." A partner toolkit with messaging examples, graphics, and more is available.
Antimicrobial stewardship, also sometimes referred to as antibiotic stewardship, is the effort to measure and improve how antimicrobials are prescribed by clinicians and used by patients. Improving antimicrobial prescribing and use is critical to effectively treat infections, protect patients from harms caused by unnecessary antimicrobial use, and combat antimicrobial resistance, which is one of the greatest public health challenges of our time as few treatment options exist for people infected with antimicrobial resistant organisms. Antimicrobial resistance happens when germs no longer respond to the antimicrobials designed to kill them. Infections caused by antimicrobial-resistant organisms are difficult, and sometimes impossible, to treat. In many cases, antimicrobial-resistant infections require extended hospital stays, additional follow-up doctor visits, and costly and toxic alternatives.
Any time antimicrobials are used, they can contribute to antimicrobial resistance. This is because increases in antimicrobial resistance are driven by a combination of germs exposed to antimicrobials, and the spread of those germs and their mechanisms of resistance. When antimicrobials are needed, the benefits usually outweigh the risks of antimicrobial resistance. However, too many antibiotics are being used unnecessarily and misused, which threatens the usefulness of these important drugs.
Medical laboratories that perform antimicrobial susceptibility testing (AST) play an important role in reducing antimicrobial resistance, by producing accurate test results that ensure patients are prescribed appropriate antimicrobials.
CLSI has a globally trusted reputation for its development of AST standards and guidelines on test methods and QC procedures. Additionally, they annually report revised AST breakpoints to meet global public health challenges related to antimicrobial resistance. CLSI's library of 39 Microbiology standards and guidelines establish vital performance criteria and best practice guidelines for use in the clinical microbiology laboratory field.
CLSI will be launching a new interactive online program called "Using CLSI M100: Performance Standards for Antimicrobial Susceptibility Testing" in the coming weeks. CLSI's annual AST supplement, M100, represents the most current information for drug selection, antimicrobial susceptibility test interpretation, and quality control. The data provided in M100 are relied upon throughout the world by laboratorians, infectious disease practitioners, and AST device manufacturers. This new self-paced course, created with experts in the industry, will be available for free and based on the current version of M100-Ed31. It will be updated in the spring to reflect any changes in the next edition of M100 that will publishing in early 2022. Check back on our homepage in the coming weeks for more information.
← Go Back