CLSI Publishes New Edition of GP42—Collection of Capillary Blood Specimens, 7th Edition
9/25/2020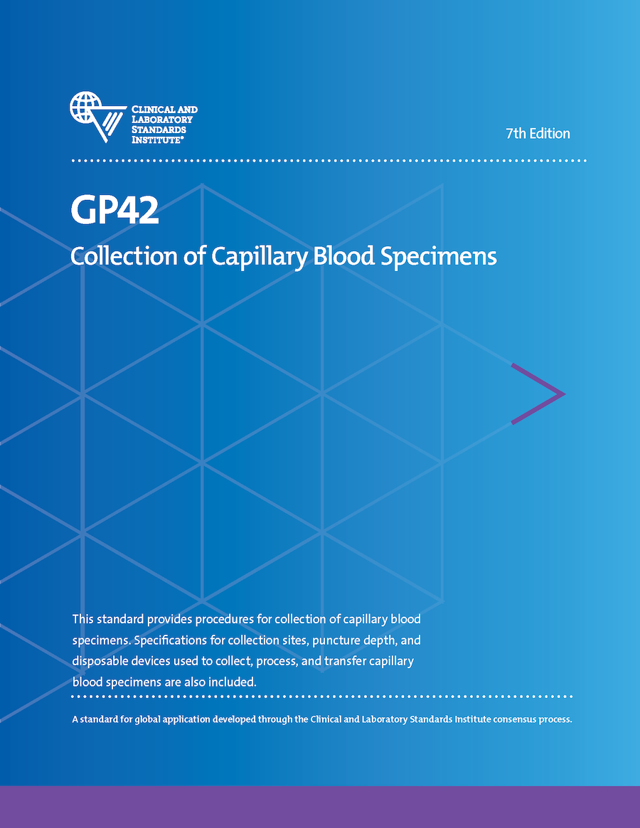 USA—The Clinical and Laboratory Standards Institute (CLSI) has published GP42—Collection of Capillary Blood Specimens, 7th Edition. GP42 provides procedures for collection of capillary blood specimens that contribute to the accuracy of the results and the safety of the patient and the health care professional. Specifications for collection sites, puncture depth, and disposable devices used to collect, process, and transfer capillary blood specimens are also included.
This standard also discusses:
Precollection requirements.
Patient assessment and positioning.
Specimen collection and labeling.
Nancy Glasgow-Roberts, PBT(ASCP), Chairholder of GP42, said, "GP42 was written to help instill the confidence and expertise needed to obtain suitable capillary blood specimens the first time around. The difference between good and great in capillary collections is in the details. The GP42 document development committee was committed to these details. Every health care provider collecting capillary specimens can firmly rely on the information in GP42, and laboratories can implement the information in GP42 into their standard operating procedures with confidence."
For more information about GP42, contact Patrick McGinn at pmcginn@clsi.org or +1.484.588.5933.    
 CLSI sets the standard for quality in medical laboratory testing. A not-for-profit membership organization, CLSI brings together the global laboratory community for the advancement of a common cause: to foster excellence in laboratory medicine.    
For over 50 years, our members, volunteers, and customers have made CLSI a respected, transformative leader in the development and implementation of medical laboratory testing standards. Through our unified efforts, we will continue to set and uphold the standards that drive quality test results, enhance patient care delivery, and improve health care around the world.    
By using CLSI standards, laboratorians can improve process quality, speed the development of standard operating procedures, and implement safer practices with greater ease and efficiency.
← Go Back