CLSI Publishes New Edition of VET02— Development of Quality Control Ranges, Breakpoints, and Interpretive Categories for Antimicrobial Agents Used in Veterinary Medicine
1/28/2021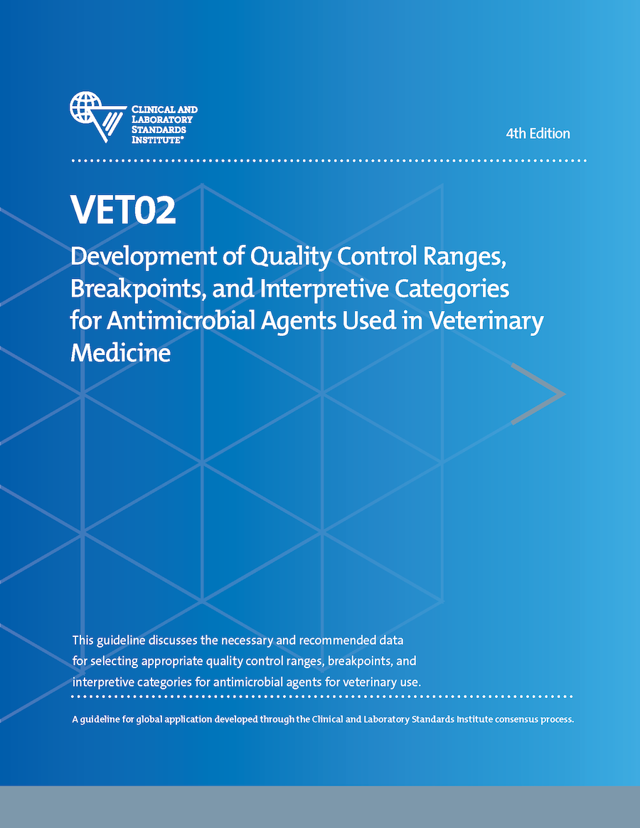 Malvern, PA—The Clinical and Laboratory Standards Institute (CLSI) has published the fourth edition of VET02— Development of Quality Control Ranges, Breakpoints, and Interpretive Categories for Antimicrobial Agents Used in Veterinary Medicine. VET02 provides recommendations for developing QC ranges, agar disk diffusion zones of inhibition breakpoints, and dilution minimal inhibitory concentration breakpoints for antimicrobial susceptibility tests for aerobic bacteria isolated from animals and performed by CLSI antimicrobial susceptibility testing standards. Host-specific pharmacokinetics, in vitro drug characteristics, distributions of microorganisms, and correlation of test results with outcome statistics are described for interpretation of test results.
VET02 also provides information on:
Acceptability of data.
Development of breakpoints for generic or unsponsored compounds.
Clinical effectiveness studies.
Brian V. Lubbers, DVM, PhD, DACVCP, Chairholder of the Subcommittee on Veterinary Antimicrobial Susceptibility said, "The release of the newest edition of the VET02 guideline is an exciting step forward for the CLSI Veterinary Antimicrobial Susceptibility Testing (VAST) Subcommittee and users of our products. The VET02 (formerly M37 document) is our "how-to manual" for developing quality control ranges, breakpoints, and interpretive categories.  Although the primary audience for this guideline will be pharmaceutical sponsors seeking to develop interpretive criteria for their antimicrobial agents, the newest edition of the VET02 provides additional insight and clarity to this process which we hope will encourage the development of more veterinary-specific breakpoints to the benefit of the greater laboratory community."
For more information about VET02, contact Patrick McGinn at pmcginn@clsi.org or +1.484.588.5933.    
CLSI sets the standard for quality in medical laboratory testing. A not-for-profit membership organization, CLSI brings together the global laboratory community for the advancement of a common cause: to foster excellence in laboratory medicine.    
For over 50 years, our members, volunteers, and customers have made CLSI a respected, transformative leader in the development and implementation of medical laboratory testing standards. Through our unified efforts, we will continue to set and uphold the standards that drive quality test results, enhance patient care delivery, and improve health care around the world.    
By using CLSI standards, laboratorians can improve process quality, speed the development of standard operating procedures, and implement safer practices with greater ease and efficiency.
← Go Back