CLSI Publishes New Guideline H62—Validation of Assays Performed by Flow Cytometry
11/5/2021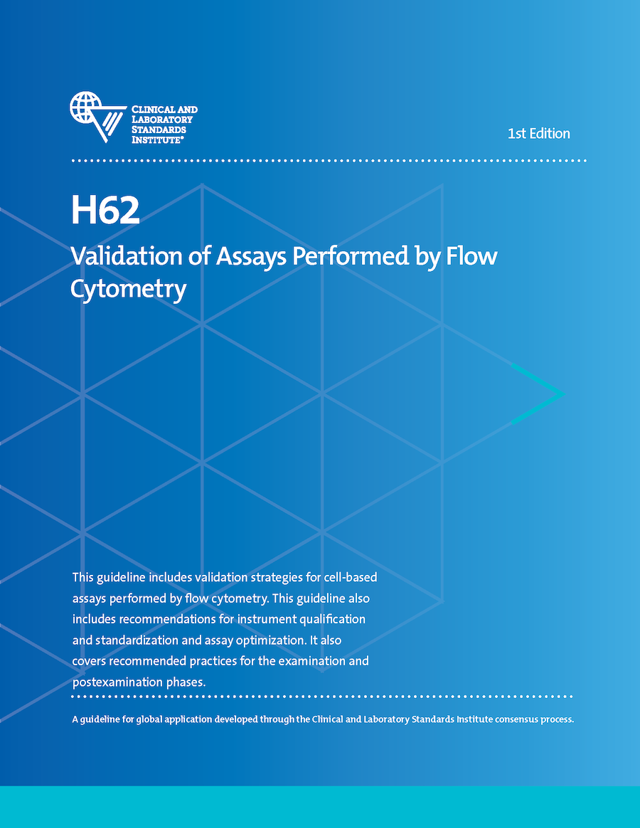 Malvern, PA—The Clinical and Laboratory Standards Institute (CLSI) has published the first edition of H62–Validation of Assays Performed by Flow Cytometry.
H62 focuses on the unique requirements for the analytical validation of cell-based assays performed by flow cytometry. Recommendations and practical instructions are provided for preexamination phase activities such as sample requirements, reagent optimization evaluation, instrument qualification and standardization, and assay optimization and validation. Guidance for examination phase activities such as instrument monitoring and QC are described, as are recommended practices for postexamination activities, including data review, reporting, storage, and retention. This guideline is intended for use in a flow cytometry environment in which preclinical (or nonclinical) and clinical assessments are conducted, including but not limited to:
Research laboratories.
Medical laboratories.
Drug discovery, development, and manufacturing companies.
Reagent, assay, and instrument manufacturers.
Regulatory agencies.
Virginia Litwin, PhD, Chairholder of H62, said, "The target audience for H62 is anyone who touches a flow cytometry, because we feel that every lab should be generating high-quality results. This is the first document to bring together such comprehensive information for all steps involved in generating flow cytometric data—from uncrating the instrument to archiving the data, and everything in between. The document presents a fit-for-purpose approach to method validation and suggests a variety of validation strategies which represent the minimal, reasonable validation approach to consider based on the context of use of the data."
For more information about H62, contact Joanne Christopher at jchristopher@clsi.org or +1.484.588.5907.    
 CLSI sets the standard for quality in medical laboratory testing. A not-for-profit membership organization, CLSI brings together the global laboratory community for the advancement of a common cause: to foster excellence in laboratory medicine.    
For over 50 years, our members, volunteers, and customers have made CLSI a respected, transformative leader in the development and implementation of medical laboratory testing standards. Through our unified efforts, we will continue to set and uphold the standards that drive quality test results, enhance patient care delivery, and improve health care around the world.    
By using CLSI standards, laboratorians can improve process quality, speed the development of standard operating procedures, and implement safer practices with greater ease and efficiency.
← Go Back