CLSI Publishes M100—Performance Standards for Antimicrobial Susceptibility Testing, 32nd Edition
3/15/2022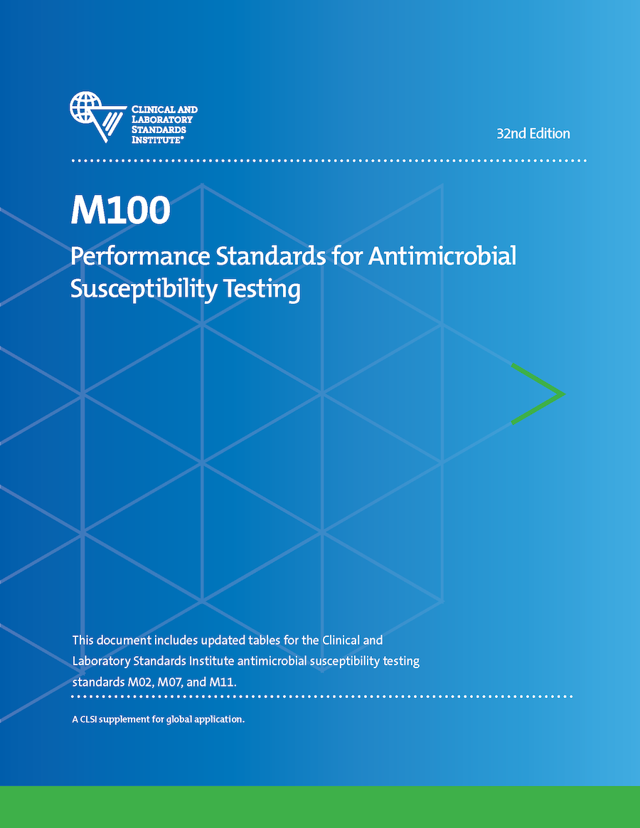 Malvern, Pennsylvania, USA—The Clinical and Laboratory Standards Institute (CLSI) has published M100—Performance Standards for Antimicrobial Susceptibility Testing, 32nd Edition.
The tables presented in M100 represent the most current information for drug selection, interpretation, and quality control using the procedures standardized in M02, M07, and M11. Users should replace previously published tables with these new tables. For a concise list of new antimicrobial susceptibility testing and reporting recommendations, users should review the listing of changes and additions in the new edition that are presented in the opening pages.
James Lewis, PharmD, FIDSA, Chairholder of M100, observed, "CLSI's annual M100 update is a key component in optimizing the care of patients with bacterial infections. This annual update is important not just for labs, but also for clinicians and antibiotic stewardship programs, since these updates reflect the availability of new antibiotics, emerging resistance trends, the latest in clinical outcomes data, and modern pharmacokinetic and pharmacodynamics analyses."
Melvin P. Weinstein, MD, Vice-Chairholder of M100, said, "CLSI's M100 annual update is an essential resource for all clinical microbiology labs. It provides the latest susceptibility breakpoints for antimicrobial agents versus commonly isolated bacteria for both microbiology professionals and clinicians."
M100 is also available as part of a package with either M02—Performance Standards for Antimicrobial Disk Susceptibility, 13th Ed.,  or M07— Methods for Dilution Antimicrobial Susceptibility Tests for Bacteria That Grow Aerobically, 11th Ed. A package that includes M100, M02, and M07 is also available.
CLSI's Annual Updates Webinar, moderated by Janet Hindler, MCLS, MT(ASCP), F(AAM), Los Angeles Department of Public Health and presented by Romney M. Humphries, PhD, D(ABMM) of Vanderbilt University and Audrey Schuetz, MD, MPH, D(ABMM) of the Mayo Clinic, is designed to help users learn more about the science behind the new content in this edition. The webinar will help users identify the major changes found in the updated edition of M100, and participants will learn to design a strategy for implementing the new standard into laboratory practices and get communication strategies for informing clinical staff of significant AST and reporting changes. The webinar will take place twice, on Tuesday, March 22 and Wednesday, March 23 and will cover the same information.
CLSI has also updated its free self-paced, online learning program, Using M100: Performance Standards for Antimicrobial Susceptibility Testing to align with the new 32nd edition of M100. This interactive program was designed to teach users how to navigate the tables found in M100.
During the course, users will learn:
More about CLSI and its role in AST. How to locate specific tables in M100 that can guide AST testing and reporting decisions, such as:
Selecting antimicrobial agents for testing and reporting.
Interpreting zone diameter and minimal inhibitory concentration (or MIC) measurements.
Choosing organisms for quality control of disk diffusion and MIC tests.
The program is free, with an optional 1.5 P.A.C.E.® credits available for purchase.

For more information about M100, contact Joanne Christopher at jchristopher@clsi.org  or +1.484.588.5907.  
 CLSI sets the standard for quality in medical laboratory testing. A not-for-profit membership organization, CLSI brings together the global laboratory community for the advancement of a common cause: to foster excellence in laboratory medicine.    
For over 50 years, our members, volunteers, and customers have made CLSI a respected, transformative leader in the development and implementation of medical laboratory testing standards. Through our unified efforts, we will continue to set and uphold the standards that drive quality test results, enhance patient care delivery, and improve health care around the world.    
By using CLSI standards, laboratorians can improve process quality, speed the development of standard operating procedures, and implement safer practices with greater ease and efficiency.
← Go Back