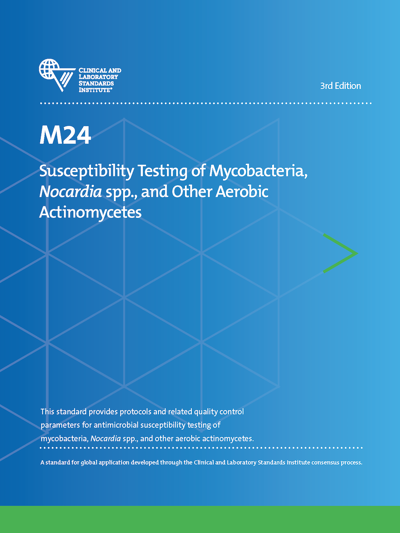 M24
Susceptibility Testing of Mycobacteria, Nocardia spp., and Other Aerobic Actinomycetes, 3rd Edition
This standard provides protocols and related quality control parameters for antimicrobial susceptibility testing of mycobacteria, Nocardia spp., and other aerobic actinomycetes.
Supplemental tables for M24 are published in CLSI document M62.
This edition of the document was corrected in October 2019 and April 2020. Read the correction notices by accessing the link above, and learn more about our corrections process here.
Members: $54.00 → $153.00
Nonmembers: $180.00
Details
Chairholder: Gail L. Woods, MD
Date of Publication: November 28, 2018
Order Code PDF: M24Ed3E
ISBN Number: 978-1-68440-026-3
Order Code Print: M24Ed3
ISBN Number: 978-1-68440-025-6
Edition: Third
Pages: 110
M24 Additional Details
A standard for global application developed through the Clinical and Laboratory Standards Institute consensus process.