Molecular Diagnostics |
Standards
CLSI offers standards on quality management and proficiency testing for the molecular diagnostics laboratory, as well as guidelines on the proper collection, transport, preparation, and storage of specimens. Learn about molecular diagnostic methods for identification of infectious diseases as well as oncological applications for molecular testing. 
Featured Products
Tuesday, February 22, 2022 | 1:00-2:00 PM Eastern (US) Time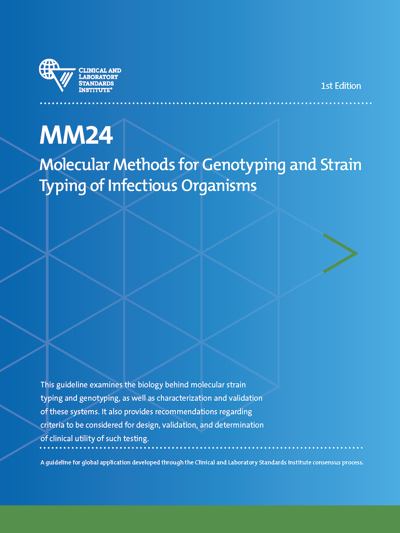 This guideline examines the biology behind molecular strain typing and genotyping, as well as characterization and validation of these systems. It also provides recommendations regarding criteria to be considered for design, validation, and determination of clinical utility of such testing.
This guideline includes information on sequencing DNA targets of cultured isolates, provides a quantitative metric for perceiving microbial diversity, and can serve as the basis to identify microorganisms. By establishing interpretive criteria for microorganism identification by targeted DNA sequencing, this guideline provides structure to laboratories that identify microorganisms for medical use.
This guideline provides recommendations on proper and safe biological specimen collection and nucleic acid isolation and purification. Topics include collection methods, recommended transport and storage conditions, and available nucleic acid isolation and purification technologies for each specimen and nucleic acid type.
Browse Standards